La Grande Casse
Tignes - France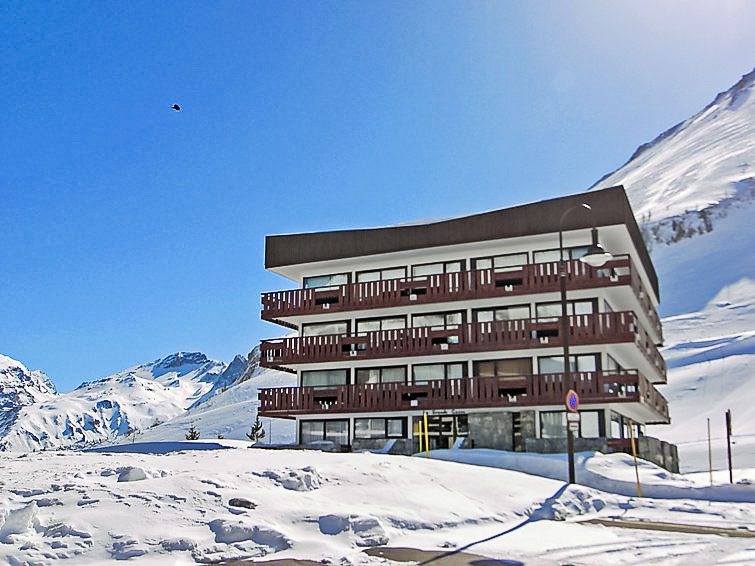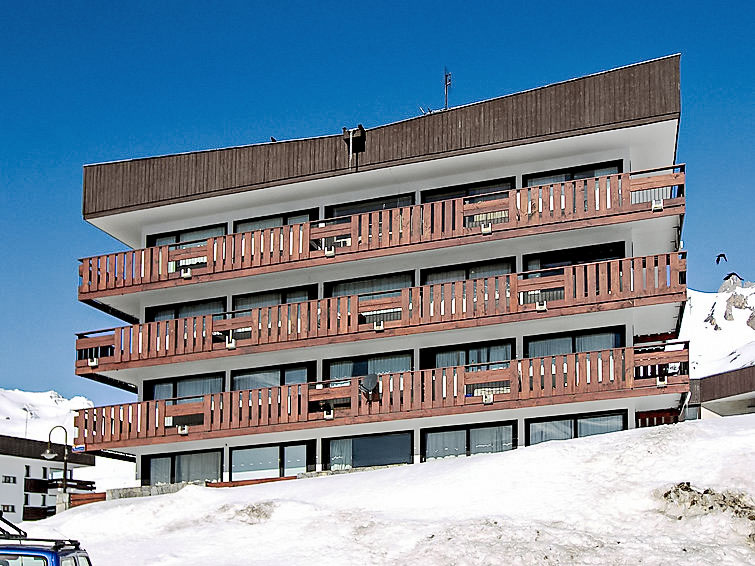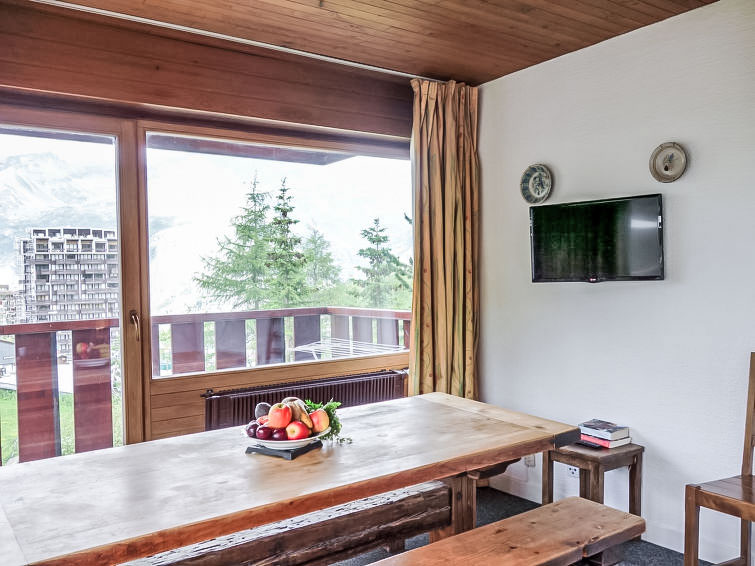 5 Guest(s)
2 Room(s)
1 Bedroom(s)
1 Bathroom(s)
Apartment
** Stars
Introduction to La Grande Casse
Ski holiday prices are different depending on the week throughout the ski season, some weeks are more expensive than others so check the prices either side of your ideal date, you might grab a bargain!
Tignes in France is one of the Alps jewels hence why it is so popular, it is such a nice place to be.
This 2 star property La Grande Casse-Tignes includes everything you need for your ski holiday, even a nice view.
At only 150m from the pistes this ski apartment is nicely located and can sleep up to 5 guests
La Grande Casse-Tignes is not far from a ski and snowboard rental shop where you can pickup up your snow equipment. Order online in advance and receive up to 40% discount and save time in resort!
Ski Holiday Overview
La Grande Casse - ski91
Resort: Tignes
Region: Savoie - Haute Savoie - Alps
Country: France
Stars: **
Number of guests: 5
Size: 45 m²
Rooms: 2
Bedrooms: 1
Toilets: 1
Bathrooms: 1
Customer rating: 3.3 out of 5 from 6 reviews
SkiGB Property Code:
ski91
*This property is provided by our partner Interhome, a new window to their website will open.
| Arrival Date | Departure Date | 7 Nights | Book |
| --- | --- | --- | --- |
| 18/04/2020 | 25/04/2020 | £6510 | |
| 14/03/2020 | 21/03/2020 | £9870 | |
| 21/03/2020 | 28/03/2020 | £9870 | |
| 28/03/2020 | 04/04/2020 | £9870 | |
| 04/04/2020 | 11/04/2020 | £9870 | |
| 18/04/2020 | 25/04/2020 | £6510 | |
| 14/03/2020 | 21/03/2020 | £9870 | |
| 21/03/2020 | 28/03/2020 | £9870 | |
| 28/03/2020 | 04/04/2020 | £9870 | |
| 04/04/2020 | 11/04/2020 | £9870 | |
| 07/11/2020 | 14/11/2020 | £471.36 | |
| 14/11/2020 | 21/11/2020 | £471.36 | |
| 28/11/2020 | 05/12/2020 | £466.88 | |
| 05/12/2020 | 12/12/2020 | £466.88 | |
| 02/01/2021 | 09/01/2021 | £655.88 | |
| 23/01/2021 | 30/01/2021 | £655.88 | |
| 06/02/2021 | 13/02/2021 | £1033.88 | |
| 13/02/2021 | 20/02/2021 | £1033.88 | |
| 20/02/2021 | 27/02/2021 | £1033.88 | |
| 06/03/2021 | 13/03/2021 | £753.88 | |
| 20/03/2021 | 27/03/2021 | £655.88 | |
| 27/03/2021 | 03/04/2021 | £655.88 | |
| 17/04/2021 | 24/04/2021 | £690.88 | |
| 06/11/2021 | 13/11/2021 | £466.88 | |
| 13/11/2021 | 20/11/2021 | £466.88 | |
| 07/11/2020 | 14/11/2020 | £380.34 | |
| 14/11/2020 | 21/11/2020 | £380.34 | |
| 28/11/2020 | 05/12/2020 | £148.16 | |
| 05/12/2020 | 12/12/2020 | £148.16 | |
| 09/01/2021 | 16/01/2021 | £190.16 | |
| 16/01/2021 | 23/01/2021 | £190.16 | |
| 23/01/2021 | 30/01/2021 | £190.16 | |
| 20/02/2021 | 27/02/2021 | £358.16 | |
| 06/03/2021 | 13/03/2021 | £274.16 | |
| 13/03/2021 | 20/03/2021 | £274.16 | |
| 27/03/2021 | 03/04/2021 | £148.16 | |
| 10/04/2021 | 17/04/2021 | £190.16 | |
| 17/04/2021 | 24/04/2021 | £190.16 | |
| 06/11/2021 | 13/11/2021 | £148.16 | |
| 13/11/2021 | 20/11/2021 | £148.16 | |
| 20/11/2021 | 27/11/2021 | £148.16 | |
| 27/11/2021 | 04/12/2021 | £148.16 | |
| 04/12/2021 | 11/12/2021 | £148.16 | |
| 08/01/2022 | 15/01/2022 | £190.16 | |
| 15/01/2022 | 22/01/2022 | £190.16 | |
| 22/01/2022 | 29/01/2022 | £190.16 | |
| 12/02/2022 | 19/02/2022 | £358.16 | |
| 05/03/2022 | 12/03/2022 | £274.16 | |
| 19/03/2022 | 26/03/2022 | £148.16 | |
| 26/03/2022 | 02/04/2022 | £148.16 | |
| 09/04/2022 | 16/04/2022 | £190.16 | |
| 05/11/2022 | 12/11/2022 | £148.16 | |
| 12/11/2022 | 19/11/2022 | £148.16 | |
| 07/11/2020 | 14/11/2020 | £380.34 | |
| 14/11/2020 | 21/11/2020 | £380.34 | |
| 28/11/2020 | 05/12/2020 | £148.16 | |
| 05/12/2020 | 12/12/2020 | £148.16 | |
| 09/01/2021 | 16/01/2021 | £190.16 | |
| 16/01/2021 | 23/01/2021 | £190.16 | |
| 23/01/2021 | 30/01/2021 | £190.16 | |
| 20/02/2021 | 27/02/2021 | £358.16 | |
| 06/03/2021 | 13/03/2021 | £274.16 | |
| 13/03/2021 | 20/03/2021 | £274.16 | |
| 27/03/2021 | 03/04/2021 | £148.16 | |
| 10/04/2021 | 17/04/2021 | £190.16 | |
| 17/04/2021 | 24/04/2021 | £190.16 | |
| 06/11/2021 | 13/11/2021 | £148.16 | |
| 13/11/2021 | 20/11/2021 | £148.16 | |
| 20/11/2021 | 27/11/2021 | £148.16 | |
| 27/11/2021 | 04/12/2021 | £148.16 | |
| 04/12/2021 | 11/12/2021 | £148.16 | |
| 08/01/2022 | 15/01/2022 | £190.16 | |
| 15/01/2022 | 22/01/2022 | £190.16 | |
| 22/01/2022 | 29/01/2022 | £190.16 | |
| 12/02/2022 | 19/02/2022 | £358.16 | |
| 05/03/2022 | 12/03/2022 | £274.16 | |
| 19/03/2022 | 26/03/2022 | £148.16 | |
| 26/03/2022 | 02/04/2022 | £148.16 | |
| 09/04/2022 | 16/04/2022 | £190.16 | |
| 05/11/2022 | 12/11/2022 | £148.16 | |
| 12/11/2022 | 19/11/2022 | £148.16 | |
| 07/11/2020 | 14/11/2020 | £380.34 | |
| 14/11/2020 | 21/11/2020 | £380.34 | |
| 28/11/2020 | 05/12/2020 | £148.16 | |
| 05/12/2020 | 12/12/2020 | £148.16 | |
| 09/01/2021 | 16/01/2021 | £190.16 | |
| 16/01/2021 | 23/01/2021 | £190.16 | |
| 23/01/2021 | 30/01/2021 | £190.16 | |
| 20/02/2021 | 27/02/2021 | £358.16 | |
| 06/03/2021 | 13/03/2021 | £274.16 | |
| 13/03/2021 | 20/03/2021 | £274.16 | |
| 27/03/2021 | 03/04/2021 | £148.16 | |
| 10/04/2021 | 17/04/2021 | £190.16 | |
| 17/04/2021 | 24/04/2021 | £190.16 | |
| 06/11/2021 | 13/11/2021 | £148.16 | |
| 13/11/2021 | 20/11/2021 | £148.16 | |
| 20/11/2021 | 27/11/2021 | £148.16 | |
| 27/11/2021 | 04/12/2021 | £148.16 | |
| 04/12/2021 | 11/12/2021 | £148.16 | |
| 08/01/2022 | 15/01/2022 | £190.16 | |
| 15/01/2022 | 22/01/2022 | £190.16 | |
| 22/01/2022 | 29/01/2022 | £190.16 | |
| 12/02/2022 | 19/02/2022 | £358.16 | |
| 05/03/2022 | 12/03/2022 | £274.16 | |
| 19/03/2022 | 26/03/2022 | £148.16 | |
| 26/03/2022 | 02/04/2022 | £148.16 | |
| 09/04/2022 | 16/04/2022 | £190.16 | |
| 05/11/2022 | 12/11/2022 | £148.16 | |
| 12/11/2022 | 19/11/2022 | £148.16 | |
| 07/11/2020 | 14/11/2020 | £669.30 | |
| 14/11/2020 | 21/11/2020 | £669.30 | |
| 21/11/2020 | 28/11/2020 | £669.30 | |
| 28/11/2020 | 05/12/2020 | £669.30 | |
| 05/12/2020 | 12/12/2020 | £669.30 | |
| 09/01/2021 | 16/01/2021 | £826.66 | |
| 16/01/2021 | 23/01/2021 | £826.66 | |
| 23/01/2021 | 30/01/2021 | £826.66 | |
| 06/02/2021 | 13/02/2021 | £994.66 | |
| 13/02/2021 | 20/02/2021 | £994.66 | |
| 20/02/2021 | 27/02/2021 | £994.66 | |
| 06/03/2021 | 13/03/2021 | £826.66 | |
| 13/03/2021 | 20/03/2021 | £826.66 | |
| 03/04/2021 | 10/04/2021 | £826.66 | |
| 17/04/2021 | 24/04/2021 | £6440 | |
| 09/01/2021 | 16/01/2021 | £4550 | |
| 16/01/2021 | 23/01/2021 | £4550 | |
| 23/01/2021 | 30/01/2021 | £4550 | |
| 07/11/2020 | 14/11/2020 | £5040 | |
| 14/11/2020 | 21/11/2020 | £5040 | |
| 28/11/2020 | 05/12/2020 | £597.90 | |
| 05/12/2020 | 12/12/2020 | £597.90 | |
| 09/01/2021 | 16/01/2021 | £695.90 | |
| 16/01/2021 | 23/01/2021 | £695.90 | |
| 20/02/2021 | 27/02/2021 | £926.90 | |
| 06/03/2021 | 13/03/2021 | £681.90 | |
| 13/03/2021 | 20/03/2021 | £681.90 | |
| 20/03/2021 | 27/03/2021 | £681.90 | |
| 27/03/2021 | 03/04/2021 | £681.90 | |
| 10/04/2021 | 17/04/2021 | £646.90 | |
| 17/04/2021 | 24/04/2021 | £646.90 | |
| 06/11/2021 | 13/11/2021 | £490.16 | |
| 13/11/2021 | 20/11/2021 | £490.16 | |
| 07/11/2020 | 14/11/2020 | £903.06 | |
| 14/11/2020 | 21/11/2020 | £903.06 | |
| 07/11/2020 | 14/11/2020 | £455.86 | |
| 14/11/2020 | 21/11/2020 | £455.86 | |
| 07/11/2020 | 14/11/2020 | £658.76 | |
| 14/11/2020 | 21/11/2020 | £658.76 | |
| 28/11/2020 | 05/12/2020 | £657.64 | |
| 05/12/2020 | 12/12/2020 | £657.64 | |
| 09/01/2021 | 16/01/2021 | £727.64 | |
| 16/01/2021 | 23/01/2021 | £727.64 | |
| 20/02/2021 | 27/02/2021 | £1140.64 | |
| 06/03/2021 | 13/03/2021 | £804.64 | |
| 20/03/2021 | 27/03/2021 | £664.64 | |
| 27/03/2021 | 03/04/2021 | £664.64 | |
| 03/04/2021 | 10/04/2021 | £664.64 | |
| 10/04/2021 | 17/04/2021 | £664.64 | |
| 17/04/2021 | 24/04/2021 | £664.64 | |
| 07/11/2020 | 14/11/2020 | £359.36 | |
| 14/11/2020 | 21/11/2020 | £359.36 | |
| 28/11/2020 | 05/12/2020 | £361.88 | |
| 05/12/2020 | 12/12/2020 | £361.88 | |
| 09/01/2021 | 16/01/2021 | £424.88 | |
| 23/01/2021 | 30/01/2021 | £515.88 | |
| 06/02/2021 | 13/02/2021 | £788.88 | |
| 13/02/2021 | 20/02/2021 | £788.88 | |
| 20/02/2021 | 27/02/2021 | £788.88 | |
| 06/03/2021 | 13/03/2021 | £557.88 | |
| 20/03/2021 | 27/03/2021 | £515.88 | |
| 27/03/2021 | 03/04/2021 | £515.88 | |
| 17/04/2021 | 24/04/2021 | £424.88 | |
| 06/11/2021 | 13/11/2021 | £361.88 | |
| 13/11/2021 | 20/11/2021 | £361.88 | |
| 07/11/2020 | 14/11/2020 | £420.86 | |
| 14/11/2020 | 21/11/2020 | £420.86 | |
| 07/11/2020 | 14/11/2020 | £2228.36 | |
| 14/11/2020 | 21/11/2020 | £2228.36 | |
| 07/11/2020 | 14/11/2020 | £363.20 | |
| 14/11/2020 | 21/11/2020 | £363.20 | |
| 28/11/2020 | 05/12/2020 | £378.88 | |
| 05/12/2020 | 12/12/2020 | £378.88 | |
| 09/01/2021 | 16/01/2021 | £406.88 | |
| 16/01/2021 | 23/01/2021 | £406.88 | |
| 27/02/2021 | 06/03/2021 | £406.88 | |
| 06/03/2021 | 13/03/2021 | £406.88 | |
| 13/03/2021 | 20/03/2021 | £406.88 | |
| 20/03/2021 | 27/03/2021 | £406.88 | |
| 27/03/2021 | 03/04/2021 | £406.88 | |
| 10/04/2021 | 17/04/2021 | £357.88 | |
| 17/04/2021 | 24/04/2021 | £357.88 | |
| 06/11/2021 | 13/11/2021 | £364.88 | |
| 13/11/2021 | 20/11/2021 | £364.88 | |
| 07/11/2020 | 14/11/2020 | £469.02 | |
| 14/11/2020 | 21/11/2020 | £469.02 | |
| 28/11/2020 | 05/12/2020 | £463.88 | |
| 05/12/2020 | 12/12/2020 | £463.88 | |
| 09/01/2021 | 16/01/2021 | £505.88 | |
| 16/01/2021 | 23/01/2021 | £505.88 | |
| 27/02/2021 | 06/03/2021 | £505.88 | |
| 06/03/2021 | 13/03/2021 | £505.88 | |
| 13/03/2021 | 20/03/2021 | £505.88 | |
| 20/03/2021 | 27/03/2021 | £505.88 | |
| 27/03/2021 | 03/04/2021 | £505.88 | |
| 10/04/2021 | 17/04/2021 | £421.88 | |
| 17/04/2021 | 24/04/2021 | £421.88 | |
| 06/11/2021 | 13/11/2021 | £463.88 | |
| 13/11/2021 | 20/11/2021 | £463.88 | |
| 07/11/2020 | 14/11/2020 | £3710 | |
| 14/11/2020 | 21/11/2020 | £3710 | |
| 21/11/2020 | 28/11/2020 | £3710 | |
| 28/11/2020 | 05/12/2020 | £3710 | |
| 05/12/2020 | 12/12/2020 | £3710 | |
| 16/01/2021 | 23/01/2021 | £4200 | |
| 20/02/2021 | 27/02/2021 | £5530 | |
| 13/03/2021 | 20/03/2021 | £3850 | |
| 10/04/2021 | 17/04/2021 | £3710 | |
| 06/11/2021 | 13/11/2021 | £2380 | |
| 13/11/2021 | 20/11/2021 | £2380 | |
| 07/11/2020 | 14/11/2020 | £577.12 | |
| 14/11/2020 | 21/11/2020 | £577.12 | |
| 28/11/2020 | 05/12/2020 | £576.18 | |
| 05/12/2020 | 12/12/2020 | £576.18 | |
| 09/01/2021 | 16/01/2021 | £625.18 | |
| 16/01/2021 | 23/01/2021 | £625.18 | |
| 20/02/2021 | 27/02/2021 | £905.18 | |
| 06/03/2021 | 13/03/2021 | £667.18 | |
| 13/03/2021 | 20/03/2021 | £667.18 | |
| 20/03/2021 | 27/03/2021 | £667.18 | |
| 27/03/2021 | 03/04/2021 | £667.18 | |
| 10/04/2021 | 17/04/2021 | £597.18 | |
| 17/04/2021 | 24/04/2021 | £597.18 | |
| 06/11/2021 | 13/11/2021 | £576.18 | |
| 13/11/2021 | 20/11/2021 | £576.18 | |
| 07/11/2020 | 14/11/2020 | £341.42 | |
| 14/11/2020 | 21/11/2020 | £341.42 | |
| 28/11/2020 | 05/12/2020 | £336.28 | |
| 05/12/2020 | 12/12/2020 | £336.28 | |
| 12/12/2020 | 19/12/2020 | £336.28 | |
| 19/12/2020 | 26/12/2020 | £336.28 | |
| 26/12/2020 | 02/01/2021 | £336.28 | |
| 02/01/2021 | 09/01/2021 | £336.28 | |
| 09/01/2021 | 16/01/2021 | £336.28 | |
| 16/01/2021 | 23/01/2021 | £336.28 | |
| 23/01/2021 | 30/01/2021 | £336.28 | |
| 30/01/2021 | 06/02/2021 | £336.28 | |
| 06/02/2021 | 13/02/2021 | £336.28 | |
| 13/02/2021 | 20/02/2021 | £336.28 | |
| 20/02/2021 | 27/02/2021 | £336.28 | |
| 27/02/2021 | 06/03/2021 | £336.28 | |
| 06/03/2021 | 13/03/2021 | £336.28 | |
| 13/03/2021 | 20/03/2021 | £336.28 | |
| 20/03/2021 | 27/03/2021 | £336.28 | |
| 27/03/2021 | 03/04/2021 | £336.28 | |
| 03/04/2021 | 10/04/2021 | £336.28 | |
| 10/04/2021 | 17/04/2021 | £336.28 | |
| 17/04/2021 | 24/04/2021 | £336.28 | |
| 06/11/2021 | 13/11/2021 | £336.28 | |
| 13/11/2021 | 20/11/2021 | £336.28 | |
| 07/11/2020 | 14/11/2020 | £616.80 | |
| 14/11/2020 | 21/11/2020 | £616.80 | |
| 28/11/2020 | 05/12/2020 | £612.62 | |
| 05/12/2020 | 12/12/2020 | £612.62 | |
| 12/12/2020 | 19/12/2020 | £612.62 | |
| 09/01/2021 | 16/01/2021 | £612.62 | |
| 16/01/2021 | 23/01/2021 | £612.62 | |
| 23/01/2021 | 30/01/2021 | £612.62 | |
| 20/02/2021 | 27/02/2021 | £759.62 | |
| 06/03/2021 | 13/03/2021 | £619.62 | |
| 13/03/2021 | 20/03/2021 | £619.62 | |
| 10/04/2021 | 17/04/2021 | £612.62 | |
| 17/04/2021 | 24/04/2021 | £612.62 | |
| 28/11/2020 | 05/12/2020 | £8540 | |
| 05/12/2020 | 12/12/2020 | £8540 | |
| 12/12/2020 | 19/12/2020 | £8540 | |
| 09/01/2021 | 16/01/2021 | £8540 | |
| 16/01/2021 | 23/01/2021 | £8540 | |
| 23/01/2021 | 30/01/2021 | £8540 | |
| 06/02/2021 | 13/02/2021 | £9940 | |
| 13/02/2021 | 20/02/2021 | £9940 | |
| 20/02/2021 | 27/02/2021 | £9940 | |
| 06/03/2021 | 13/03/2021 | £8540 | |
| 13/03/2021 | 20/03/2021 | £8540 | |
| 03/04/2021 | 10/04/2021 | £8540 | |
| 10/04/2021 | 17/04/2021 | £8540 | |
| 17/04/2021 | 24/04/2021 | £8540 | |
| 06/11/2021 | 13/11/2021 | £8540 | |
| 13/11/2021 | 20/11/2021 | £8540 | |
Property Location
Distance to: Lake is 500m
Distance to: Ski is 50m

Map
Available Facilities
Bath
Extrabed
Non Smoking
Hiking Plains
Mountain Biking
Biking Plains
Sailing

Cross Country Skiing
Ice Rink
Skiarea
Snowboard
Riding
Balcony
Babycot

Dishwasher
Tv
Washing Machine
Internet
WiFi
Terrace