Le 2100 A et B
Tignes - France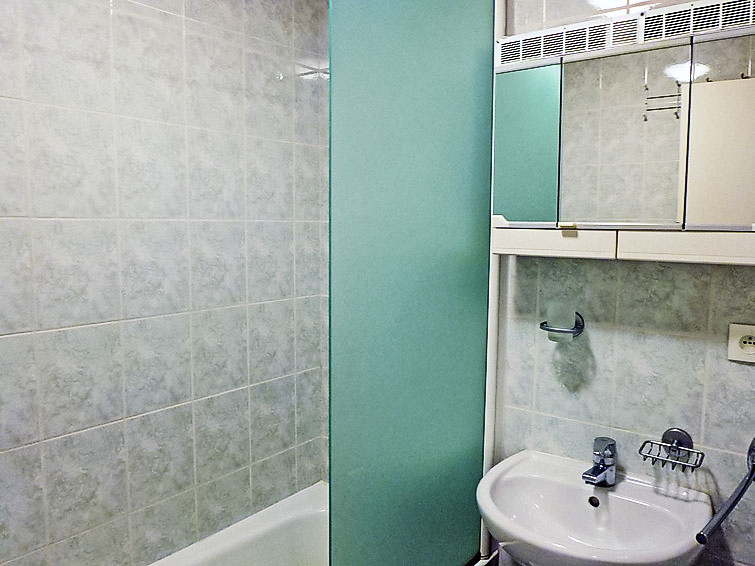 4 Guest(s)
1 Room(s)
1 Bedroom(s)
1 Bathroom(s)
Apartment
** Stars
Introduction to Le 2100 A et B
To help you select the best ski holiday we have split up the details for this holiday into easy to navigate sections.
Tignes in France is one of the Alps jewels hence why it is so popular, it is such a nice place to be.
This 2 star property Le 2100 A et B-Tignes ticks a lot of the boxes for a ski accommodation including location to the slopes.
The ski property is nicely located at just 200m from the pistes and can accommodate up to 4 guests
Le 2100 A et B-Tignes is nicely located to one of the ski and snowboard hire shops, did you know you can order your equipment online in advance so you do not need to waste time in resort?
Ski Holiday Overview
Le 2100 A et B - ski97
Resort: Tignes
Region: Savoie - Haute Savoie - Alps
Country: France
Stars: **
Number of guests: 4
Size: 28 m²
Rooms: 1
Bedrooms: 1
Toilets: 1
Bathrooms: 1
Customer rating: 5.0 out of 5 from 1 reviews
SkiGB Property Code:
ski97
*This property is provided by our partner Interhome, a new window to their website will open.
| Arrival Date | Departure Date | 7 Nights | Book |
| --- | --- | --- | --- |
| 14/03/2020 | 21/03/2020 | £5740 | |
| 21/03/2020 | 28/03/2020 | £5740 | |
| 28/03/2020 | 04/04/2020 | £5740 | |
| 04/04/2020 | 11/04/2020 | £5740 | |
| 18/04/2020 | 25/04/2020 | £24500 | |
| 07/11/2020 | 14/11/2020 | £24500 | |
| 14/11/2020 | 21/11/2020 | £24500 | |
| 21/11/2020 | 28/11/2020 | £24500 | |
| 28/11/2020 | 05/12/2020 | £24500 | |
| 05/12/2020 | 12/12/2020 | £24500 | |
| 09/01/2021 | 16/01/2021 | £26530 | |
| 16/01/2021 | 23/01/2021 | £26530 | |
| 23/01/2021 | 30/01/2021 | £26530 | |
| 06/02/2021 | 13/02/2021 | £28140 | |
| 13/02/2021 | 20/02/2021 | £28140 | |
| 20/02/2021 | 27/02/2021 | £28140 | |
| 06/03/2021 | 13/03/2021 | £26530 | |
| 13/03/2021 | 20/03/2021 | £26530 | |
| 14/03/2020 | 21/03/2020 | £5740 | |
| 21/03/2020 | 28/03/2020 | £5740 | |
| 28/03/2020 | 04/04/2020 | £5740 | |
| 04/04/2020 | 11/04/2020 | £5740 | |
| 18/04/2020 | 25/04/2020 | £24500 | |
| 07/11/2020 | 14/11/2020 | £24500 | |
| 14/11/2020 | 21/11/2020 | £24500 | |
| 21/11/2020 | 28/11/2020 | £24500 | |
| 28/11/2020 | 05/12/2020 | £24500 | |
| 05/12/2020 | 12/12/2020 | £24500 | |
| 09/01/2021 | 16/01/2021 | £26530 | |
| 16/01/2021 | 23/01/2021 | £26530 | |
| 23/01/2021 | 30/01/2021 | £26530 | |
| 06/02/2021 | 13/02/2021 | £28140 | |
| 13/02/2021 | 20/02/2021 | £28140 | |
| 20/02/2021 | 27/02/2021 | £28140 | |
| 06/03/2021 | 13/03/2021 | £26530 | |
| 13/03/2021 | 20/03/2021 | £26530 | |
| 09/01/2021 | 16/01/2021 | £4550 | |
| 16/01/2021 | 23/01/2021 | £4550 | |
| 23/01/2021 | 30/01/2021 | £4550 | |
| 09/01/2021 | 16/01/2021 | £4550 | |
| 16/01/2021 | 23/01/2021 | £4550 | |
| 23/01/2021 | 30/01/2021 | £4550 | |
| 09/01/2021 | 16/01/2021 | £4550 | |
| 16/01/2021 | 23/01/2021 | £4550 | |
| 23/01/2021 | 30/01/2021 | £4550 | |
| 07/11/2020 | 14/11/2020 | £1264.70 | |
| 14/11/2020 | 21/11/2020 | £1264.70 | |
| 05/12/2020 | 12/12/2020 | £1482.64 | |
| 09/01/2021 | 16/01/2021 | £1531.64 | |
| 16/01/2021 | 23/01/2021 | £1531.64 | |
| 23/01/2021 | 30/01/2021 | £1531.64 | |
| 06/02/2021 | 13/02/2021 | £1993.64 | |
| 13/02/2021 | 20/02/2021 | £1993.64 | |
| 20/02/2021 | 27/02/2021 | £1993.64 | |
| 06/03/2021 | 13/03/2021 | £1531.64 | |
| 27/03/2021 | 03/04/2021 | £1636.64 | |
| 10/04/2021 | 17/04/2021 | £1328.64 | |
| 17/04/2021 | 24/04/2021 | £1328.64 | |
| 07/11/2020 | 14/11/2020 | £741.24 | |
| 14/11/2020 | 21/11/2020 | £741.24 | |
| 28/11/2020 | 05/12/2020 | £740.78 | |
| 05/12/2020 | 12/12/2020 | £740.78 | |
| 12/12/2020 | 19/12/2020 | £740.78 | |
| 16/01/2021 | 23/01/2021 | £768.78 | |
| 23/01/2021 | 30/01/2021 | £768.78 | |
| 27/02/2021 | 06/03/2021 | £1027.78 | |
| 13/03/2021 | 20/03/2021 | £768.78 | |
| 20/03/2021 | 27/03/2021 | £768.78 | |
| 27/03/2021 | 03/04/2021 | £768.78 | |
| 03/04/2021 | 10/04/2021 | £768.78 | |
| 10/04/2021 | 17/04/2021 | £768.78 | |
| 17/04/2021 | 24/04/2021 | £768.78 | |
| 07/11/2020 | 14/11/2020 | £559.28 | |
| 14/11/2020 | 21/11/2020 | £559.28 | |
| 07/11/2020 | 14/11/2020 | £491.52 | |
| 14/11/2020 | 21/11/2020 | £491.52 | |
| 28/11/2020 | 05/12/2020 | £488.36 | |
| 05/12/2020 | 12/12/2020 | £488.36 | |
| 09/01/2021 | 16/01/2021 | £488.36 | |
| 16/01/2021 | 23/01/2021 | £488.36 | |
| 20/02/2021 | 27/02/2021 | £635.36 | |
| 06/03/2021 | 13/03/2021 | £551.36 | |
| 13/03/2021 | 20/03/2021 | £551.36 | |
| 27/03/2021 | 03/04/2021 | £488.36 | |
| 10/04/2021 | 17/04/2021 | £474.36 | |
| 17/04/2021 | 24/04/2021 | £474.36 | |
| 06/11/2021 | 13/11/2021 | £488.36 | |
| 13/11/2021 | 20/11/2021 | £488.36 | |
| 07/11/2020 | 14/11/2020 | £362.42 | |
| 14/11/2020 | 21/11/2020 | £362.42 | |
| 28/11/2020 | 05/12/2020 | £371.28 | |
| 05/12/2020 | 12/12/2020 | £371.28 | |
| 09/01/2021 | 16/01/2021 | £483.28 | |
| 16/01/2021 | 23/01/2021 | £483.28 | |
| 06/03/2021 | 13/03/2021 | £504.28 | |
| 13/03/2021 | 20/03/2021 | £504.28 | |
| 27/03/2021 | 03/04/2021 | £483.28 | |
| 10/04/2021 | 17/04/2021 | £364.28 | |
| 17/04/2021 | 24/04/2021 | £364.28 | |
| 06/11/2021 | 13/11/2021 | £364.28 | |
| 13/11/2021 | 20/11/2021 | £364.28 | |
| 07/11/2020 | 14/11/2020 | £6230 | |
| 14/11/2020 | 21/11/2020 | £6230 | |
| 21/11/2020 | 28/11/2020 | £6230 | |
| 28/11/2020 | 05/12/2020 | £6230 | |
| 05/12/2020 | 12/12/2020 | £6230 | |
| 16/01/2021 | 23/01/2021 | £7700 | |
| 20/02/2021 | 27/02/2021 | £9590 | |
| 13/03/2021 | 20/03/2021 | £6510 | |
| 10/04/2021 | 17/04/2021 | £6230 | |
| 06/11/2021 | 13/11/2021 | £2870 | |
| 13/11/2021 | 20/11/2021 | £2870 | |
| 07/11/2020 | 14/11/2020 | £504.86 | |
| 14/11/2020 | 21/11/2020 | £504.86 | |
| 28/11/2020 | 05/12/2020 | £563.62 | |
| 05/12/2020 | 12/12/2020 | £563.62 | |
| 09/01/2021 | 16/01/2021 | £689.62 | |
| 23/01/2021 | 30/01/2021 | £815.62 | |
| 13/02/2021 | 20/02/2021 | £1319.62 | |
| 13/03/2021 | 20/03/2021 | £815.62 | |
| 27/03/2021 | 03/04/2021 | £941.62 | |
| 03/04/2021 | 10/04/2021 | £941.62 | |
| 17/04/2021 | 24/04/2021 | £689.62 | |
| 06/11/2021 | 13/11/2021 | £563.62 | |
| 13/11/2021 | 20/11/2021 | £563.62 | |
| 20/11/2021 | 27/11/2021 | £563.62 | |
| 27/11/2021 | 04/12/2021 | £563.62 | |
| 04/12/2021 | 11/12/2021 | £563.62 | |
| 25/12/2021 | 01/01/2022 | £1319.62 | |
| 08/01/2022 | 15/01/2022 | £689.62 | |
| 22/01/2022 | 29/01/2022 | £815.62 | |
| 12/02/2022 | 19/02/2022 | £1319.62 | |
| 12/03/2022 | 19/03/2022 | £815.62 | |
| 26/03/2022 | 02/04/2022 | £941.62 | |
| 02/04/2022 | 09/04/2022 | £941.62 | |
| 16/04/2022 | 23/04/2022 | £689.62 | |
| 05/11/2022 | 12/11/2022 | £563.62 | |
| 12/11/2022 | 19/11/2022 | £563.62 | |
| 07/11/2020 | 14/11/2020 | £2228.36 | |
| 14/11/2020 | 21/11/2020 | £2228.36 | |
| 07/11/2020 | 14/11/2020 | £380.34 | |
| 14/11/2020 | 21/11/2020 | £380.34 | |
| 28/11/2020 | 05/12/2020 | £375.08 | |
| 05/12/2020 | 12/12/2020 | £375.08 | |
| 09/01/2021 | 16/01/2021 | £417.08 | |
| 16/01/2021 | 23/01/2021 | £417.08 | |
| 23/01/2021 | 30/01/2021 | £417.08 | |
| 20/02/2021 | 27/02/2021 | £585.08 | |
| 06/03/2021 | 13/03/2021 | £501.08 | |
| 13/03/2021 | 20/03/2021 | £501.08 | |
| 27/03/2021 | 03/04/2021 | £375.08 | |
| 10/04/2021 | 17/04/2021 | £417.08 | |
| 17/04/2021 | 24/04/2021 | £417.08 | |
| 06/11/2021 | 13/11/2021 | £375.08 | |
| 13/11/2021 | 20/11/2021 | £375.08 | |
| 20/11/2021 | 27/11/2021 | £375.08 | |
| 27/11/2021 | 04/12/2021 | £375.08 | |
| 04/12/2021 | 11/12/2021 | £375.08 | |
| 08/01/2022 | 15/01/2022 | £417.08 | |
| 15/01/2022 | 22/01/2022 | £417.08 | |
| 22/01/2022 | 29/01/2022 | £417.08 | |
| 12/02/2022 | 19/02/2022 | £585.08 | |
| 05/03/2022 | 12/03/2022 | £501.08 | |
| 19/03/2022 | 26/03/2022 | £375.08 | |
| 26/03/2022 | 02/04/2022 | £375.08 | |
| 09/04/2022 | 16/04/2022 | £417.08 | |
| 05/11/2022 | 12/11/2022 | £375.08 | |
| 12/11/2022 | 19/11/2022 | £375.08 | |
| 07/11/2020 | 14/11/2020 | £510.98 | |
| 14/11/2020 | 21/11/2020 | £510.98 | |
| 28/11/2020 | 05/12/2020 | £500.76 | |
| 05/12/2020 | 12/12/2020 | £500.76 | |
| 09/01/2021 | 16/01/2021 | £584.76 | |
| 16/01/2021 | 23/01/2021 | £584.76 | |
| 23/01/2021 | 30/01/2021 | £584.76 | |
| 20/02/2021 | 27/02/2021 | £668.76 | |
| 06/03/2021 | 13/03/2021 | £556.76 | |
| 13/03/2021 | 20/03/2021 | £556.76 | |
| 10/04/2021 | 17/04/2021 | £451.76 | |
| 17/04/2021 | 24/04/2021 | £451.76 | |
| 06/11/2021 | 13/11/2021 | £465.76 | |
| 13/11/2021 | 20/11/2021 | £465.76 | |
| 28/11/2020 | 05/12/2020 | £948.90 | |
| 05/12/2020 | 12/12/2020 | £948.90 | |
| 09/01/2021 | 16/01/2021 | £920.90 | |
| 16/01/2021 | 23/01/2021 | £920.90 | |
| 23/01/2021 | 30/01/2021 | £920.90 | |
| 06/02/2021 | 13/02/2021 | £1165.90 | |
| 13/02/2021 | 20/02/2021 | £1165.90 | |
| 20/02/2021 | 27/02/2021 | £1165.90 | |
| 06/03/2021 | 13/03/2021 | £822.90 | |
| 13/03/2021 | 20/03/2021 | £822.90 | |
| 20/03/2021 | 27/03/2021 | £822.90 | |
| 27/03/2021 | 03/04/2021 | £822.90 | |
| 03/04/2021 | 10/04/2021 | £822.90 | |
| 10/04/2021 | 17/04/2021 | £822.90 | |
| 07/11/2020 | 14/11/2020 | £593.82 | |
| 14/11/2020 | 21/11/2020 | £593.82 | |
| 21/11/2020 | 28/11/2020 | £593.82 | |
| 28/11/2020 | 05/12/2020 | £593.82 | |
| 05/12/2020 | 12/12/2020 | £593.82 | |
| 12/12/2020 | 19/12/2020 | £593.82 | |
| 19/12/2020 | 26/12/2020 | £593.82 | |
| 26/12/2020 | 02/01/2021 | £593.82 | |
| 02/01/2021 | 09/01/2021 | £593.82 | |
| 09/01/2021 | 16/01/2021 | £593.82 | |
| 16/01/2021 | 23/01/2021 | £593.82 | |
| 23/01/2021 | 30/01/2021 | £593.82 | |
| 30/01/2021 | 06/02/2021 | £593.82 | |
| 06/02/2021 | 13/02/2021 | £593.82 | |
| 13/02/2021 | 20/02/2021 | £593.82 | |
| 20/02/2021 | 27/02/2021 | £593.82 | |
| 27/02/2021 | 06/03/2021 | £593.82 | |
| 06/03/2021 | 13/03/2021 | £593.82 | |
| 13/03/2021 | 20/03/2021 | £593.82 | |
| 20/03/2021 | 27/03/2021 | £593.82 | |
| 27/03/2021 | 03/04/2021 | £593.82 | |
| 03/04/2021 | 10/04/2021 | £593.82 | |
| 10/04/2021 | 17/04/2021 | £593.82 | |
| 17/04/2021 | 24/04/2021 | £593.82 | |
| 06/11/2021 | 13/11/2021 | £615.36 | |
| 13/11/2021 | 20/11/2021 | £615.36 | |
| 07/11/2020 | 14/11/2020 | £336.02 | |
| 14/11/2020 | 21/11/2020 | £336.02 | |
| 28/11/2020 | 05/12/2020 | £379.88 | |
| 05/12/2020 | 12/12/2020 | £379.88 | |
| 09/01/2021 | 16/01/2021 | £379.88 | |
| 16/01/2021 | 23/01/2021 | £379.88 | |
| 30/01/2021 | 06/02/2021 | £547.88 | |
| 13/02/2021 | 20/02/2021 | £953.88 | |
| 06/03/2021 | 13/03/2021 | £379.88 | |
| 13/03/2021 | 20/03/2021 | £379.88 | |
| 20/03/2021 | 27/03/2021 | £379.88 | |
| 27/03/2021 | 03/04/2021 | £379.88 | |
| 03/04/2021 | 10/04/2021 | £379.88 | |
| 10/04/2021 | 17/04/2021 | £379.88 | |
| 17/04/2021 | 24/04/2021 | £379.88 | |
| 06/11/2021 | 13/11/2021 | £442.88 | |
| 13/11/2021 | 20/11/2021 | £442.88 | |
| 27/11/2021 | 04/12/2021 | £379.88 | |
| 04/12/2021 | 11/12/2021 | £379.88 | |
| 08/01/2022 | 15/01/2022 | £379.88 | |
| 15/01/2022 | 22/01/2022 | £379.88 | |
| 29/01/2022 | 05/02/2022 | £547.88 | |
| 12/02/2022 | 19/02/2022 | £953.88 | |
| 05/03/2022 | 12/03/2022 | £379.88 | |
| 12/03/2022 | 19/03/2022 | £379.88 | |
| 19/03/2022 | 26/03/2022 | £379.88 | |
| 26/03/2022 | 02/04/2022 | £379.88 | |
| 02/04/2022 | 09/04/2022 | £379.88 | |
| 09/04/2022 | 16/04/2022 | £379.88 | |
| 05/11/2022 | 12/11/2022 | £442.88 | |
| 12/11/2022 | 19/11/2022 | £442.88 | |
| 07/11/2020 | 14/11/2020 | £3132.08 | |
| 14/11/2020 | 21/11/2020 | £3132.08 | |
| 28/11/2020 | 05/12/2020 | £3104.84 | |
| 05/12/2020 | 12/12/2020 | £3104.84 | |
| 12/12/2020 | 19/12/2020 | £3104.84 | |
| 26/12/2020 | 02/01/2021 | £4938.84 | |
| 09/01/2021 | 16/01/2021 | £3104.84 | |
| 16/01/2021 | 23/01/2021 | £3104.84 | |
| 23/01/2021 | 30/01/2021 | £3104.84 | |
| 06/02/2021 | 13/02/2021 | £3895.84 | |
| 13/02/2021 | 20/02/2021 | £3895.84 | |
| 20/02/2021 | 27/02/2021 | £3895.84 | |
| 06/03/2021 | 13/03/2021 | £3146.84 | |
| 13/03/2021 | 20/03/2021 | £3146.84 | |
| 20/03/2021 | 27/03/2021 | £3146.84 | |
| 27/03/2021 | 03/04/2021 | £3146.84 | |
| 10/04/2021 | 17/04/2021 | £3104.84 | |
| 17/04/2021 | 24/04/2021 | £3104.84 | |
| 07/11/2020 | 14/11/2020 | £429.34 | |
| 14/11/2020 | 21/11/2020 | £429.34 | |
| 07/11/2020 | 14/11/2020 | £647.10 | |
| 14/11/2020 | 21/11/2020 | £647.10 | |
| 28/11/2020 | 05/12/2020 | £896.30 | |
| 05/12/2020 | 12/12/2020 | £896.30 | |
| 09/01/2021 | 16/01/2021 | £1162.30 | |
| 16/01/2021 | 23/01/2021 | £1162.30 | |
| 06/03/2021 | 13/03/2021 | £1162.30 | |
| 13/03/2021 | 20/03/2021 | £1162.30 | |
| 20/03/2021 | 27/03/2021 | £1162.30 | |
| 27/03/2021 | 03/04/2021 | £1162.30 | |
| 10/04/2021 | 17/04/2021 | £637.30 | |
| 17/04/2021 | 24/04/2021 | £637.30 | |
| 06/11/2021 | 13/11/2021 | £637.30 | |
| 13/11/2021 | 20/11/2021 | £637.30 | |
| 05/12/2020 | 12/12/2020 | £411.42 | |
| 09/01/2021 | 16/01/2021 | £439.42 | |
| 16/01/2021 | 23/01/2021 | £439.42 | |
| 23/01/2021 | 30/01/2021 | £439.42 | |
| 20/02/2021 | 27/02/2021 | £635.42 | |
| 06/03/2021 | 13/03/2021 | £453.42 | |
| 13/03/2021 | 20/03/2021 | £453.42 | |
| 20/03/2021 | 27/03/2021 | £453.42 | |
| 27/03/2021 | 03/04/2021 | £453.42 | |
| 03/04/2021 | 10/04/2021 | £453.42 | |
| 10/04/2021 | 17/04/2021 | £453.42 | |
| 17/04/2021 | 24/04/2021 | £453.42 | |
| 07/11/2020 | 14/11/2020 | £1150.06 | |
| 14/11/2020 | 21/11/2020 | £1150.06 | |
| 28/11/2020 | 05/12/2020 | £486.76 | |
| 05/12/2020 | 12/12/2020 | £486.76 | |
| 09/01/2021 | 16/01/2021 | £598.76 | |
| 16/01/2021 | 23/01/2021 | £598.76 | |
| 23/01/2021 | 30/01/2021 | £598.76 | |
| 20/02/2021 | 27/02/2021 | £815.76 | |
| 06/03/2021 | 13/03/2021 | £556.76 | |
| 13/03/2021 | 20/03/2021 | £556.76 | |
| 07/11/2020 | 14/11/2020 | £763.02 | |
| 14/11/2020 | 21/11/2020 | £763.02 | |
| 28/11/2020 | 05/12/2020 | £1295.52 | |
| 05/12/2020 | 12/12/2020 | £1295.52 | |
| 09/01/2021 | 16/01/2021 | £1547.52 | |
| 06/03/2021 | 13/03/2021 | £1764.52 | |
| 13/03/2021 | 20/03/2021 | £1764.52 | |
| 20/03/2021 | 27/03/2021 | £1764.52 | |
| 27/03/2021 | 03/04/2021 | £1764.52 | |
| 10/04/2021 | 17/04/2021 | £756.52 | |
| 17/04/2021 | 24/04/2021 | £756.52 | |
| 06/11/2021 | 13/11/2021 | £756.52 | |
| 13/11/2021 | 20/11/2021 | £756.52 | |
| 27/11/2021 | 04/12/2021 | £1295.52 | |
| 04/12/2021 | 11/12/2021 | £1295.52 | |
| 08/01/2022 | 15/01/2022 | £1547.52 | |
| 05/02/2022 | 12/02/2022 | £2268.52 | |
| 05/03/2022 | 12/03/2022 | £1764.52 | |
| 19/03/2022 | 26/03/2022 | £1589.52 | |
| 26/03/2022 | 02/04/2022 | £1589.52 | |
| 02/04/2022 | 09/04/2022 | £1589.52 | |
| 09/04/2022 | 16/04/2022 | £1589.52 | |
| 05/11/2022 | 12/11/2022 | £756.52 | |
| 12/11/2022 | 19/11/2022 | £756.52 | |
Property Location
Distance to: Ski is 150m

Map
Available Facilities
Bath
Extrabed
Hiking Plains
Mountain Biking
Biking Plains
Sailing

Cross Country Skiing
Ice Rink
Skiarea
Snowboard
Riding
Elevator

Babycot
Dishwasher
Internet
WiFi
Microwave
Terrace