Le 2100 A et B
Tignes - France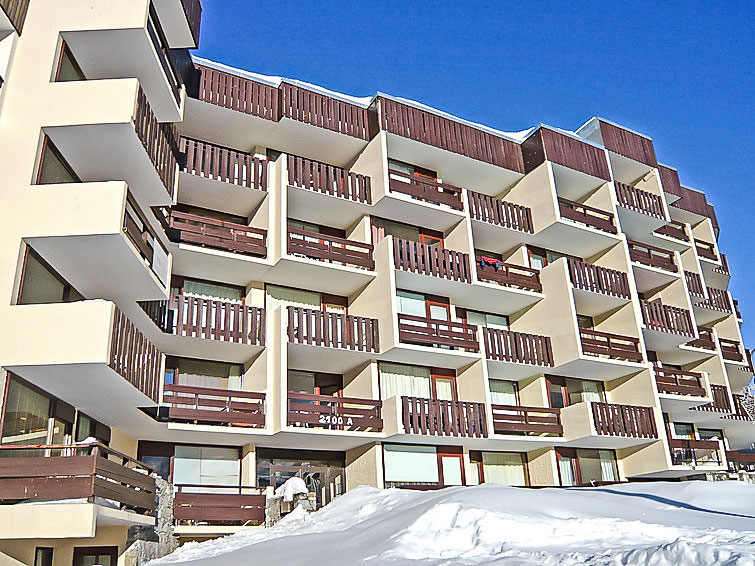 6 Guest(s)
3 Room(s)
2 Bedroom(s)
1 Bathroom(s)
Apartment
*** Stars
Introduction to Le 2100 A et B
Ski holiday prices are different depending on the week throughout the ski season, some weeks are more expensive than others so check the prices either side of your ideal date, you might grab a bargain!
Tignes in France is one of the Alps jewels hence why it is so popular, it is such a nice place to be.
This 3 star property Le 2100 A et B-Tignes ticks a lot of the boxes for a ski accommodation including location to the slopes.
At only 200m from the pistes this ski apartment is nicely located and can sleep up to 6 guests
Le 2100 A et B-Tignes is close to a ski rental hire shop which will save you time when in resort. Additionally, if you order your equipment online in advance you save even more time as you will not need to select your equipment when in resort.
Ski Holiday Overview
Le 2100 A et B - ski98
Resort: Tignes
Region: Savoie - Haute Savoie - Alps
Country: France
Stars: ***
Number of guests: 6
Size: 50 m²
Rooms: 3
Bedrooms: 2
Toilets: 1
Bathrooms: 1
Customer rating: 4.3 out of 5 from 3 reviews
SkiGB Property Code:
ski98
*This property is provided by our partner Interhome, a new window to their website will open.
| Arrival Date | Departure Date | 7 Nights | Book |
| --- | --- | --- | --- |
| 14/03/2020 | 21/03/2020 | £5810 | |
| 21/03/2020 | 28/03/2020 | £5810 | |
| 28/03/2020 | 04/04/2020 | £5810 | |
| 04/04/2020 | 11/04/2020 | £5810 | |
| 18/04/2020 | 25/04/2020 | £5950 | |
| 14/03/2020 | 21/03/2020 | £5810 | |
| 21/03/2020 | 28/03/2020 | £5810 | |
| 28/03/2020 | 04/04/2020 | £5810 | |
| 04/04/2020 | 11/04/2020 | £5810 | |
| 18/04/2020 | 25/04/2020 | £5950 | |
| 07/11/2020 | 14/11/2020 | £456.78 | |
| 14/11/2020 | 21/11/2020 | £456.78 | |
| 28/11/2020 | 05/12/2020 | £542.86 | |
| 16/01/2021 | 23/01/2021 | £871.86 | |
| 23/01/2021 | 30/01/2021 | £871.86 | |
| 06/02/2021 | 13/02/2021 | £1711.86 | |
| 13/02/2021 | 20/02/2021 | £1711.86 | |
| 20/02/2021 | 27/02/2021 | £1711.86 | |
| 06/03/2021 | 13/03/2021 | £871.86 | |
| 27/03/2021 | 03/04/2021 | £892.86 | |
| 10/04/2021 | 17/04/2021 | £591.86 | |
| 17/04/2021 | 24/04/2021 | £591.86 | |
| 06/11/2021 | 13/11/2021 | £542.86 | |
| 13/11/2021 | 20/11/2021 | £542.86 | |
| 07/11/2020 | 14/11/2020 | £3132.08 | |
| 14/11/2020 | 21/11/2020 | £3132.08 | |
| 28/11/2020 | 05/12/2020 | £3104.84 | |
| 05/12/2020 | 12/12/2020 | £3104.84 | |
| 12/12/2020 | 19/12/2020 | £3104.84 | |
| 26/12/2020 | 02/01/2021 | £4938.84 | |
| 09/01/2021 | 16/01/2021 | £3104.84 | |
| 16/01/2021 | 23/01/2021 | £3104.84 | |
| 23/01/2021 | 30/01/2021 | £3104.84 | |
| 06/02/2021 | 13/02/2021 | £3895.84 | |
| 13/02/2021 | 20/02/2021 | £3895.84 | |
| 20/02/2021 | 27/02/2021 | £3895.84 | |
| 06/03/2021 | 13/03/2021 | £3146.84 | |
| 13/03/2021 | 20/03/2021 | £3146.84 | |
| 20/03/2021 | 27/03/2021 | £3146.84 | |
| 27/03/2021 | 03/04/2021 | £3146.84 | |
| 10/04/2021 | 17/04/2021 | £3104.84 | |
| 17/04/2021 | 24/04/2021 | £3104.84 | |
| 07/11/2020 | 14/11/2020 | £3132.08 | |
| 14/11/2020 | 21/11/2020 | £3132.08 | |
| 28/11/2020 | 05/12/2020 | £3104.84 | |
| 05/12/2020 | 12/12/2020 | £3104.84 | |
| 12/12/2020 | 19/12/2020 | £3104.84 | |
| 26/12/2020 | 02/01/2021 | £4938.84 | |
| 09/01/2021 | 16/01/2021 | £3104.84 | |
| 16/01/2021 | 23/01/2021 | £3104.84 | |
| 23/01/2021 | 30/01/2021 | £3104.84 | |
| 06/02/2021 | 13/02/2021 | £3895.84 | |
| 13/02/2021 | 20/02/2021 | £3895.84 | |
| 20/02/2021 | 27/02/2021 | £3895.84 | |
| 06/03/2021 | 13/03/2021 | £3146.84 | |
| 13/03/2021 | 20/03/2021 | £3146.84 | |
| 20/03/2021 | 27/03/2021 | £3146.84 | |
| 27/03/2021 | 03/04/2021 | £3146.84 | |
| 10/04/2021 | 17/04/2021 | £3104.84 | |
| 17/04/2021 | 24/04/2021 | £3104.84 | |
| 07/11/2020 | 14/11/2020 | £3132.08 | |
| 14/11/2020 | 21/11/2020 | £3132.08 | |
| 28/11/2020 | 05/12/2020 | £3104.84 | |
| 05/12/2020 | 12/12/2020 | £3104.84 | |
| 12/12/2020 | 19/12/2020 | £3104.84 | |
| 26/12/2020 | 02/01/2021 | £4938.84 | |
| 09/01/2021 | 16/01/2021 | £3104.84 | |
| 16/01/2021 | 23/01/2021 | £3104.84 | |
| 23/01/2021 | 30/01/2021 | £3104.84 | |
| 06/02/2021 | 13/02/2021 | £3895.84 | |
| 13/02/2021 | 20/02/2021 | £3895.84 | |
| 20/02/2021 | 27/02/2021 | £3895.84 | |
| 06/03/2021 | 13/03/2021 | £3146.84 | |
| 13/03/2021 | 20/03/2021 | £3146.84 | |
| 20/03/2021 | 27/03/2021 | £3146.84 | |
| 27/03/2021 | 03/04/2021 | £3146.84 | |
| 10/04/2021 | 17/04/2021 | £3104.84 | |
| 17/04/2021 | 24/04/2021 | £3104.84 | |
| 07/11/2020 | 14/11/2020 | £436.36 | |
| 14/11/2020 | 21/11/2020 | £436.36 | |
| 28/11/2020 | 05/12/2020 | £557.88 | |
| 05/12/2020 | 12/12/2020 | £557.88 | |
| 12/12/2020 | 19/12/2020 | £557.88 | |
| 02/01/2021 | 09/01/2021 | £431.88 | |
| 09/01/2021 | 16/01/2021 | £431.88 | |
| 16/01/2021 | 23/01/2021 | £431.88 | |
| 13/02/2021 | 20/02/2021 | £795.88 | |
| 06/03/2021 | 13/03/2021 | £494.88 | |
| 13/03/2021 | 20/03/2021 | £494.88 | |
| 20/03/2021 | 27/03/2021 | £494.88 | |
| 27/03/2021 | 03/04/2021 | £494.88 | |
| 03/04/2021 | 10/04/2021 | £494.88 | |
| 10/04/2021 | 17/04/2021 | £494.88 | |
| 17/04/2021 | 24/04/2021 | £494.88 | |
| 06/11/2021 | 13/11/2021 | £431.88 | |
| 13/11/2021 | 20/11/2021 | £431.88 | |
| 07/11/2020 | 14/11/2020 | £645.56 | |
| 14/11/2020 | 21/11/2020 | £645.56 | |
| 28/11/2020 | 05/12/2020 | £592.62 | |
| 05/12/2020 | 12/12/2020 | £592.62 | |
| 09/01/2021 | 16/01/2021 | £907.62 | |
| 16/01/2021 | 23/01/2021 | £907.62 | |
| 13/02/2021 | 20/02/2021 | £1397.62 | |
| 06/03/2021 | 13/03/2021 | £893.62 | |
| 13/03/2021 | 20/03/2021 | £893.62 | |
| 27/03/2021 | 03/04/2021 | £795.62 | |
| 10/04/2021 | 17/04/2021 | £620.62 | |
| 17/04/2021 | 24/04/2021 | £620.62 | |
| 06/11/2021 | 13/11/2021 | £620.62 | |
| 13/11/2021 | 20/11/2021 | £620.62 | |
| 07/11/2020 | 14/11/2020 | £305.66 | |
| 14/11/2020 | 21/11/2020 | £305.66 | |
| 28/11/2020 | 05/12/2020 | £300.28 | |
| 05/12/2020 | 12/12/2020 | £300.28 | |
| 09/01/2021 | 16/01/2021 | £391.28 | |
| 16/01/2021 | 23/01/2021 | £391.28 | |
| 06/03/2021 | 13/03/2021 | £398.28 | |
| 13/03/2021 | 20/03/2021 | £398.28 | |
| 27/03/2021 | 03/04/2021 | £391.28 | |
| 10/04/2021 | 17/04/2021 | £300.28 | |
| 17/04/2021 | 24/04/2021 | £300.28 | |
| 06/11/2021 | 13/11/2021 | £300.28 | |
| 13/11/2021 | 20/11/2021 | £300.28 | |
| 07/11/2020 | 14/11/2020 | £4060 | |
| 14/11/2020 | 21/11/2020 | £4060 | |
| 21/11/2020 | 28/11/2020 | £4060 | |
| 28/11/2020 | 05/12/2020 | £4060 | |
| 05/12/2020 | 12/12/2020 | £4060 | |
| 16/01/2021 | 23/01/2021 | £4480 | |
| 20/02/2021 | 27/02/2021 | £6020 | |
| 13/03/2021 | 20/03/2021 | £4270 | |
| 10/04/2021 | 17/04/2021 | £4060 | |
| 17/04/2021 | 24/04/2021 | £4060 | |
| 06/11/2021 | 13/11/2021 | £2380 | |
| 13/11/2021 | 20/11/2021 | £2380 | |
| 07/11/2020 | 14/11/2020 | £17990 | |
| 14/11/2020 | 21/11/2020 | £17990 | |
| 28/11/2020 | 05/12/2020 | £17850 | |
| 05/12/2020 | 12/12/2020 | £17850 | |
| 12/12/2020 | 19/12/2020 | £17850 | |
| 16/01/2021 | 23/01/2021 | £17850 | |
| 23/01/2021 | 30/01/2021 | £17850 | |
| 06/02/2021 | 13/02/2021 | £21770 | |
| 13/02/2021 | 20/02/2021 | £21770 | |
| 20/02/2021 | 27/02/2021 | £21770 | |
| 06/03/2021 | 13/03/2021 | £17850 | |
| 27/03/2021 | 03/04/2021 | £17850 | |
| 10/04/2021 | 17/04/2021 | £16660 | |
| 17/04/2021 | 24/04/2021 | £16660 | |
| 07/11/2020 | 14/11/2020 | £6720 | |
| 14/11/2020 | 21/11/2020 | £6720 | |
| 28/11/2020 | 05/12/2020 | £6650 | |
| 05/12/2020 | 12/12/2020 | £6650 | |
| 09/01/2021 | 16/01/2021 | £5810 | |
| 16/01/2021 | 23/01/2021 | £5810 | |
| 30/01/2021 | 06/02/2021 | £7210 | |
| 27/02/2021 | 06/03/2021 | £7210 | |
| 06/03/2021 | 13/03/2021 | £7210 | |
| 13/03/2021 | 20/03/2021 | £7210 | |
| 20/03/2021 | 27/03/2021 | £7210 | |
| 27/03/2021 | 03/04/2021 | £7210 | |
| 10/04/2021 | 17/04/2021 | £5810 | |
| 17/04/2021 | 24/04/2021 | £5810 | |
| 06/11/2021 | 13/11/2021 | £6650 | |
| 13/11/2021 | 20/11/2021 | £6650 | |
| 07/11/2020 | 14/11/2020 | £1691.16 | |
| 14/11/2020 | 21/11/2020 | £1691.16 | |
| 28/11/2020 | 05/12/2020 | £1722.80 | |
| 05/12/2020 | 12/12/2020 | £1722.80 | |
| 12/12/2020 | 19/12/2020 | £1722.80 | |
| 16/01/2021 | 23/01/2021 | £1960.80 | |
| 23/01/2021 | 30/01/2021 | £1960.80 | |
| 27/02/2021 | 06/03/2021 | £3066.80 | |
| 13/03/2021 | 20/03/2021 | £1960.80 | |
| 27/03/2021 | 03/04/2021 | £1834.80 | |
| 03/04/2021 | 10/04/2021 | £1834.80 | |
| 10/04/2021 | 17/04/2021 | £1834.80 | |
| 17/04/2021 | 24/04/2021 | £1834.80 | |
| 06/11/2021 | 13/11/2021 | £1365.80 | |
| 13/11/2021 | 20/11/2021 | £1365.80 | |
| 20/11/2021 | 27/11/2021 | £1365.80 | |
| 07/11/2020 | 14/11/2020 | £527.36 | |
| 14/11/2020 | 21/11/2020 | £527.36 | |
| 28/11/2020 | 05/12/2020 | £522.88 | |
| 05/12/2020 | 12/12/2020 | £522.88 | |
| 09/01/2021 | 16/01/2021 | £641.88 | |
| 23/01/2021 | 30/01/2021 | £746.88 | |
| 13/02/2021 | 20/02/2021 | £1222.88 | |
| 06/03/2021 | 13/03/2021 | £872.88 | |
| 20/03/2021 | 27/03/2021 | £746.88 | |
| 27/03/2021 | 03/04/2021 | £746.88 | |
| 17/04/2021 | 24/04/2021 | £641.88 | |
| 06/11/2021 | 13/11/2021 | £522.88 | |
| 13/11/2021 | 20/11/2021 | £522.88 | |
| 07/11/2020 | 14/11/2020 | £903.06 | |
| 14/11/2020 | 21/11/2020 | £903.06 | |
| 07/11/2020 | 14/11/2020 | £577.86 | |
| 14/11/2020 | 21/11/2020 | £577.86 | |
| 28/11/2020 | 05/12/2020 | £574.16 | |
| 05/12/2020 | 12/12/2020 | £574.16 | |
| 09/01/2021 | 16/01/2021 | £630.16 | |
| 16/01/2021 | 23/01/2021 | £630.16 | |
| 23/01/2021 | 30/01/2021 | £630.16 | |
| 20/02/2021 | 27/02/2021 | £672.16 | |
| 06/03/2021 | 13/03/2021 | £623.16 | |
| 13/03/2021 | 20/03/2021 | £623.16 | |
| 10/04/2021 | 17/04/2021 | £602.16 | |
| 17/04/2021 | 24/04/2021 | £602.16 | |
| 06/11/2021 | 13/11/2021 | £581.16 | |
| 13/11/2021 | 20/11/2021 | £581.16 | |
| 07/11/2020 | 14/11/2020 | £2132.66 | |
| 14/11/2020 | 21/11/2020 | £2132.66 | |
| 28/11/2020 | 05/12/2020 | £2118.70 | |
| 05/12/2020 | 12/12/2020 | £2118.70 | |
| 09/01/2021 | 16/01/2021 | £2692.70 | |
| 16/01/2021 | 23/01/2021 | £2692.70 | |
| 20/02/2021 | 27/02/2021 | £3742.70 | |
| 06/03/2021 | 13/03/2021 | £2692.70 | |
| 20/03/2021 | 27/03/2021 | £2468.70 | |
| 27/03/2021 | 03/04/2021 | £2468.70 | |
| 03/04/2021 | 10/04/2021 | £2468.70 | |
| 10/04/2021 | 17/04/2021 | £2468.70 | |
| 17/04/2021 | 24/04/2021 | £2468.70 | |
| 07/11/2020 | 14/11/2020 | £301.78 | |
| 14/11/2020 | 21/11/2020 | £301.78 | |
| 28/11/2020 | 05/12/2020 | £338.88 | |
| 05/12/2020 | 12/12/2020 | £338.88 | |
| 09/01/2021 | 16/01/2021 | £387.88 | |
| 16/01/2021 | 23/01/2021 | £387.88 | |
| 23/01/2021 | 30/01/2021 | £387.88 | |
| 13/02/2021 | 20/02/2021 | £499.88 | |
| 06/03/2021 | 13/03/2021 | £394.88 | |
| 13/03/2021 | 20/03/2021 | £394.88 | |
| 20/03/2021 | 27/03/2021 | £394.88 | |
| 27/03/2021 | 03/04/2021 | £394.88 | |
| 10/04/2021 | 17/04/2021 | £338.88 | |
| 17/04/2021 | 24/04/2021 | £338.88 | |
| 06/11/2021 | 13/11/2021 | £296.88 | |
| 13/11/2021 | 20/11/2021 | £296.88 | |
| 07/11/2020 | 14/11/2020 | £391.20 | |
| 14/11/2020 | 21/11/2020 | £391.20 | |
| 28/11/2020 | 05/12/2020 | £385.88 | |
| 05/12/2020 | 12/12/2020 | £385.88 | |
| 12/12/2020 | 19/12/2020 | £385.88 | |
| 09/01/2021 | 16/01/2021 | £385.88 | |
| 16/01/2021 | 23/01/2021 | £385.88 | |
| 23/01/2021 | 30/01/2021 | £385.88 | |
| 20/02/2021 | 27/02/2021 | £483.88 | |
| 06/03/2021 | 13/03/2021 | £392.88 | |
| 13/03/2021 | 20/03/2021 | £392.88 | |
| 10/04/2021 | 17/04/2021 | £385.88 | |
| 17/04/2021 | 24/04/2021 | £385.88 | |
| 07/11/2020 | 14/11/2020 | £429.34 | |
| 14/11/2020 | 21/11/2020 | £429.34 | |
| 05/12/2020 | 12/12/2020 | £4480 | |
| 12/12/2020 | 19/12/2020 | £4480 | |
| 09/01/2021 | 16/01/2021 | £4690 | |
| 16/01/2021 | 23/01/2021 | £4690 | |
| 23/01/2021 | 30/01/2021 | £4690 | |
| 20/02/2021 | 27/02/2021 | £7280 | |
| 06/03/2021 | 13/03/2021 | £4830 | |
| 13/03/2021 | 20/03/2021 | £4830 | |
| 20/03/2021 | 27/03/2021 | £4830 | |
| 27/03/2021 | 03/04/2021 | £4830 | |
| 03/04/2021 | 10/04/2021 | £4830 | |
| 10/04/2021 | 17/04/2021 | £4830 | |
| 07/11/2020 | 14/11/2020 | £475.20 | |
| 14/11/2020 | 21/11/2020 | £475.20 | |
| 28/11/2020 | 05/12/2020 | £469.60 | |
| 05/12/2020 | 12/12/2020 | £469.60 | |
| 09/01/2021 | 16/01/2021 | £504.60 | |
| 16/01/2021 | 23/01/2021 | £504.60 | |
| 23/01/2021 | 30/01/2021 | £504.60 | |
| 20/02/2021 | 27/02/2021 | £945.60 | |
| 06/03/2021 | 13/03/2021 | £441.60 | |
| 13/03/2021 | 20/03/2021 | £441.60 | |
| 10/04/2021 | 17/04/2021 | £1434.90 | |
| 17/04/2021 | 24/04/2021 | £1434.90 | |
| 06/11/2021 | 13/11/2021 | £182.60 | |
| 13/11/2021 | 20/11/2021 | £182.60 | |
Property Location
Distance to: Ski is 150m

Map
Available Facilities
Bath
Extrabed
Hiking Plains
Mountain Biking
Biking Plains
Sailing
Cross Country Skiing

Ice Rink
Skiarea
Snowboard
Riding
Elevator
Balcony
Babycot

Dishwasher
Tv
Internet
WiFi
Dvdplayer
Microwave
Oven