Les Moutières B1 et B2
Tignes - France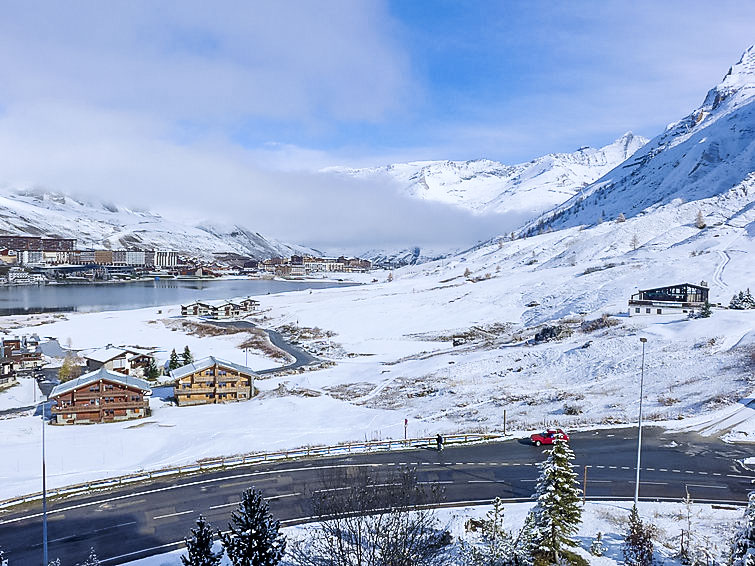 2 Guest(s)
1 Room(s)
1 Bedroom(s)
1 Bathroom(s)
Apartment
** Stars
Introduction to Les Moutières B1 et B2
Ski holiday prices are different depending on the week throughout the ski season, some weeks are more expensive than others so check the prices either side of your ideal date, you might grab a bargain!
Tignes in France is very popular with British skiers and offers many activities additional to the fun you will have on the slopes.
This 2 star property Les Moutires B1 et B2-Tignes is well maintained and has everything you need for your stay.
This property is conveniently located for the pistes, they are only 300m away. The accommodation is large enough to sleep 2 guests
Les Moutires B1 et B2-Tignes is not far from a ski and snowboard rental shop where you can pickup up your snow equipment. Order online in advance and receive up to 40% discount and save time in resort!
Ski Holiday Overview
Les Moutières B1 et B2 - ski110
Resort: Tignes
Region: Savoie - Haute Savoie - Alps
Country: France
Stars: **
Number of guests: 2
Size: 20 m²
Rooms: 1
Bedrooms: 1
Toilets: 1
Bathrooms: 1
Customer rating: 4.0 out of 5 from 3 reviews
SkiGB Property Code:
ski110
*This property is provided by our partner Interhome, a new window to their website will open.
| Arrival Date | Departure Date | 7 Nights | Book |
| --- | --- | --- | --- |
| 07/11/2020 | 14/11/2020 | £190.64 | |
| 14/11/2020 | 21/11/2020 | £190.64 | |
| 28/11/2020 | 05/12/2020 | £231.52 | |
| 05/12/2020 | 12/12/2020 | £231.52 | |
| 09/01/2021 | 16/01/2021 | £273.52 | |
| 16/01/2021 | 23/01/2021 | £273.52 | |
| 23/01/2021 | 30/01/2021 | £273.52 | |
| 20/02/2021 | 27/02/2021 | £560.52 | |
| 06/03/2021 | 13/03/2021 | £231.52 | |
| 13/03/2021 | 20/03/2021 | £231.52 | |
| 20/03/2021 | 27/03/2021 | £231.52 | |
| 27/03/2021 | 03/04/2021 | £231.52 | |
| 03/04/2021 | 10/04/2021 | £231.52 | |
| 17/04/2021 | 24/04/2021 | £1177.08 | |
| 06/11/2021 | 13/11/2021 | £1177.08 | |
| 13/11/2021 | 20/11/2021 | £1177.08 | |
| 07/11/2020 | 14/11/2020 | £1436.86 | |
| 14/11/2020 | 21/11/2020 | £1436.86 | |
| 28/11/2020 | 05/12/2020 | £1420.90 | |
| 05/12/2020 | 12/12/2020 | £1420.90 | |
| 12/12/2020 | 19/12/2020 | £1420.90 | |
| 09/01/2021 | 16/01/2021 | £1448.90 | |
| 16/01/2021 | 23/01/2021 | £1448.90 | |
| 20/02/2021 | 27/02/2021 | £525.60 | |
| 06/03/2021 | 13/03/2021 | £1420.90 | |
| 20/03/2021 | 27/03/2021 | £1371.90 | |
| 27/03/2021 | 03/04/2021 | £1371.90 | |
| 03/04/2021 | 10/04/2021 | £1371.90 | |
| 10/04/2021 | 17/04/2021 | £1371.90 | |
| 17/04/2021 | 24/04/2021 | £1371.90 | |
| 06/11/2021 | 13/11/2021 | £1259.90 | |
| 13/11/2021 | 20/11/2021 | £1259.90 | |
| 07/11/2020 | 14/11/2020 | £1436.86 | |
| 14/11/2020 | 21/11/2020 | £1436.86 | |
| 28/11/2020 | 05/12/2020 | £1420.90 | |
| 05/12/2020 | 12/12/2020 | £1420.90 | |
| 12/12/2020 | 19/12/2020 | £1420.90 | |
| 09/01/2021 | 16/01/2021 | £1448.90 | |
| 16/01/2021 | 23/01/2021 | £1448.90 | |
| 20/02/2021 | 27/02/2021 | £525.60 | |
| 06/03/2021 | 13/03/2021 | £1420.90 | |
| 20/03/2021 | 27/03/2021 | £1371.90 | |
| 27/03/2021 | 03/04/2021 | £1371.90 | |
| 03/04/2021 | 10/04/2021 | £1371.90 | |
| 10/04/2021 | 17/04/2021 | £1371.90 | |
| 17/04/2021 | 24/04/2021 | £1371.90 | |
| 06/11/2021 | 13/11/2021 | £1259.90 | |
| 13/11/2021 | 20/11/2021 | £1259.90 | |
| 07/11/2020 | 14/11/2020 | £1436.86 | |
| 14/11/2020 | 21/11/2020 | £1436.86 | |
| 28/11/2020 | 05/12/2020 | £1420.90 | |
| 05/12/2020 | 12/12/2020 | £1420.90 | |
| 12/12/2020 | 19/12/2020 | £1420.90 | |
| 09/01/2021 | 16/01/2021 | £1448.90 | |
| 16/01/2021 | 23/01/2021 | £1448.90 | |
| 20/02/2021 | 27/02/2021 | £525.60 | |
| 06/03/2021 | 13/03/2021 | £1420.90 | |
| 20/03/2021 | 27/03/2021 | £1371.90 | |
| 27/03/2021 | 03/04/2021 | £1371.90 | |
| 03/04/2021 | 10/04/2021 | £1371.90 | |
| 10/04/2021 | 17/04/2021 | £1371.90 | |
| 17/04/2021 | 24/04/2021 | £1371.90 | |
| 06/11/2021 | 13/11/2021 | £1259.90 | |
| 13/11/2021 | 20/11/2021 | £1259.90 | |
| 07/11/2020 | 14/11/2020 | £454.28 | |
| 14/11/2020 | 21/11/2020 | £454.28 | |
| 28/11/2020 | 05/12/2020 | £694.68 | |
| 05/12/2020 | 12/12/2020 | £694.68 | |
| 12/12/2020 | 19/12/2020 | £694.68 | |
| 02/01/2021 | 09/01/2021 | £470.68 | |
| 09/01/2021 | 16/01/2021 | £470.68 | |
| 16/01/2021 | 23/01/2021 | £470.68 | |
| 13/02/2021 | 20/02/2021 | £883.68 | |
| 06/03/2021 | 13/03/2021 | £477.68 | |
| 13/03/2021 | 20/03/2021 | £477.68 | |
| 20/03/2021 | 27/03/2021 | £477.68 | |
| 27/03/2021 | 03/04/2021 | £477.68 | |
| 03/04/2021 | 10/04/2021 | £477.68 | |
| 10/04/2021 | 17/04/2021 | £477.68 | |
| 17/04/2021 | 24/04/2021 | £477.68 | |
| 06/11/2021 | 13/11/2021 | £470.68 | |
| 13/11/2021 | 20/11/2021 | £470.68 | |
| 27/11/2021 | 04/12/2021 | £603.68 | |
| 04/12/2021 | 11/12/2021 | £603.68 | |
| 11/12/2021 | 18/12/2021 | £603.68 | |
| 25/12/2021 | 01/01/2022 | £883.68 | |
| 08/01/2022 | 15/01/2022 | £470.68 | |
| 15/01/2022 | 22/01/2022 | £470.68 | |
| 12/02/2022 | 19/02/2022 | £883.68 | |
| 05/03/2022 | 12/03/2022 | £477.68 | |
| 12/03/2022 | 19/03/2022 | £477.68 | |
| 19/03/2022 | 26/03/2022 | £477.68 | |
| 26/03/2022 | 02/04/2022 | £477.68 | |
| 02/04/2022 | 09/04/2022 | £477.68 | |
| 09/04/2022 | 16/04/2022 | £477.68 | |
| 16/04/2022 | 23/04/2022 | £477.68 | |
| 05/11/2022 | 12/11/2022 | £470.68 | |
| 12/11/2022 | 19/11/2022 | £470.68 | |
| 07/11/2020 | 14/11/2020 | £406.80 | |
| 14/11/2020 | 21/11/2020 | £406.80 | |
| 28/11/2020 | 05/12/2020 | £423.62 | |
| 05/12/2020 | 12/12/2020 | £423.62 | |
| 09/01/2021 | 16/01/2021 | £500.62 | |
| 16/01/2021 | 23/01/2021 | £500.62 | |
| 23/01/2021 | 30/01/2021 | £500.62 | |
| 06/03/2021 | 13/03/2021 | £556.62 | |
| 13/03/2021 | 20/03/2021 | £556.62 | |
| 20/03/2021 | 27/03/2021 | £556.62 | |
| 27/03/2021 | 03/04/2021 | £556.62 | |
| 10/04/2021 | 17/04/2021 | £402.62 | |
| 17/04/2021 | 24/04/2021 | £402.62 | |
| 06/11/2021 | 13/11/2021 | £402.62 | |
| 13/11/2021 | 20/11/2021 | £402.62 | |
| 07/11/2020 | 14/11/2020 | £570.10 | |
| 14/11/2020 | 21/11/2020 | £570.10 | |
| 28/11/2020 | 05/12/2020 | £756.30 | |
| 05/12/2020 | 12/12/2020 | £756.30 | |
| 09/01/2021 | 16/01/2021 | £952.30 | |
| 16/01/2021 | 23/01/2021 | £952.30 | |
| 06/03/2021 | 13/03/2021 | £952.30 | |
| 13/03/2021 | 20/03/2021 | £952.30 | |
| 27/03/2021 | 03/04/2021 | £945.30 | |
| 10/04/2021 | 17/04/2021 | £560.30 | |
| 17/04/2021 | 24/04/2021 | £560.30 | |
| 06/11/2021 | 13/11/2021 | £560.30 | |
| 13/11/2021 | 20/11/2021 | £560.30 | |
| 07/11/2020 | 14/11/2020 | £1225.82 | |
| 14/11/2020 | 21/11/2020 | £1225.82 | |
| 21/11/2020 | 28/11/2020 | £1225.82 | |
| 28/11/2020 | 05/12/2020 | £1225.82 | |
| 05/12/2020 | 12/12/2020 | £1225.82 | |
| 09/01/2021 | 16/01/2021 | £759.76 | |
| 16/01/2021 | 23/01/2021 | £759.76 | |
| 23/01/2021 | 30/01/2021 | £759.76 | |
| 06/02/2021 | 13/02/2021 | £990.76 | |
| 13/02/2021 | 20/02/2021 | £990.76 | |
| 20/02/2021 | 27/02/2021 | £990.76 | |
| 13/03/2021 | 20/03/2021 | £584.76 | |
| 20/03/2021 | 27/03/2021 | £584.76 | |
| 27/03/2021 | 03/04/2021 | £584.76 | |
| 10/04/2021 | 17/04/2021 | £605.76 | |
| 17/04/2021 | 24/04/2021 | £605.76 | |
| 06/11/2021 | 13/11/2021 | £605.76 | |
| 13/11/2021 | 20/11/2021 | £605.76 | |
| 07/11/2020 | 14/11/2020 | £363.20 | |
| 14/11/2020 | 21/11/2020 | £363.20 | |
| 28/11/2020 | 05/12/2020 | £378.88 | |
| 05/12/2020 | 12/12/2020 | £378.88 | |
| 09/01/2021 | 16/01/2021 | £406.88 | |
| 16/01/2021 | 23/01/2021 | £406.88 | |
| 27/02/2021 | 06/03/2021 | £406.88 | |
| 06/03/2021 | 13/03/2021 | £406.88 | |
| 13/03/2021 | 20/03/2021 | £406.88 | |
| 20/03/2021 | 27/03/2021 | £406.88 | |
| 27/03/2021 | 03/04/2021 | £406.88 | |
| 10/04/2021 | 17/04/2021 | £357.88 | |
| 17/04/2021 | 24/04/2021 | £357.88 | |
| 06/11/2021 | 13/11/2021 | £364.88 | |
| 13/11/2021 | 20/11/2021 | £364.88 | |
| 07/11/2020 | 14/11/2020 | £359.36 | |
| 14/11/2020 | 21/11/2020 | £359.36 | |
| 28/11/2020 | 05/12/2020 | £361.88 | |
| 05/12/2020 | 12/12/2020 | £361.88 | |
| 09/01/2021 | 16/01/2021 | £445.88 | |
| 23/01/2021 | 30/01/2021 | £515.88 | |
| 13/02/2021 | 20/02/2021 | £816.88 | |
| 06/03/2021 | 13/03/2021 | £592.88 | |
| 20/03/2021 | 27/03/2021 | £515.88 | |
| 27/03/2021 | 03/04/2021 | £515.88 | |
| 17/04/2021 | 24/04/2021 | £445.88 | |
| 06/11/2021 | 13/11/2021 | £361.88 | |
| 13/11/2021 | 20/11/2021 | £361.88 | |
| 07/11/2020 | 14/11/2020 | £469.02 | |
| 14/11/2020 | 21/11/2020 | £469.02 | |
| 28/11/2020 | 05/12/2020 | £463.88 | |
| 05/12/2020 | 12/12/2020 | £463.88 | |
| 09/01/2021 | 16/01/2021 | £505.88 | |
| 16/01/2021 | 23/01/2021 | £505.88 | |
| 27/02/2021 | 06/03/2021 | £505.88 | |
| 06/03/2021 | 13/03/2021 | £505.88 | |
| 13/03/2021 | 20/03/2021 | £505.88 | |
| 20/03/2021 | 27/03/2021 | £505.88 | |
| 27/03/2021 | 03/04/2021 | £505.88 | |
| 10/04/2021 | 17/04/2021 | £421.88 | |
| 17/04/2021 | 24/04/2021 | £421.88 | |
| 06/11/2021 | 13/11/2021 | £463.88 | |
| 13/11/2021 | 20/11/2021 | £463.88 | |
| 28/11/2020 | 05/12/2020 | £6580 | |
| 05/12/2020 | 12/12/2020 | £6580 | |
| 12/12/2020 | 19/12/2020 | £6580 | |
| 09/01/2021 | 16/01/2021 | £6580 | |
| 16/01/2021 | 23/01/2021 | £6580 | |
| 23/01/2021 | 30/01/2021 | £6580 | |
| 06/02/2021 | 13/02/2021 | £8050 | |
| 13/02/2021 | 20/02/2021 | £8050 | |
| 20/02/2021 | 27/02/2021 | £8050 | |
| 06/03/2021 | 13/03/2021 | £6580 | |
| 13/03/2021 | 20/03/2021 | £6580 | |
| 03/04/2021 | 10/04/2021 | £6580 | |
| 10/04/2021 | 17/04/2021 | £6580 | |
| 17/04/2021 | 24/04/2021 | £6580 | |
| 06/11/2021 | 13/11/2021 | £6580 | |
| 13/11/2021 | 20/11/2021 | £6580 | |
| 07/11/2020 | 14/11/2020 | £748.22 | |
| 14/11/2020 | 21/11/2020 | £748.22 | |
| 28/11/2020 | 05/12/2020 | £738.90 | |
| 05/12/2020 | 12/12/2020 | £738.90 | |
| 09/01/2021 | 16/01/2021 | £794.90 | |
| 16/01/2021 | 23/01/2021 | £794.90 | |
| 23/01/2021 | 30/01/2021 | £794.90 | |
| 20/02/2021 | 27/02/2021 | £1039.90 | |
| 06/03/2021 | 13/03/2021 | £780.90 | |
| 13/03/2021 | 20/03/2021 | £780.90 | |
| 10/04/2021 | 17/04/2021 | £731.90 | |
| 17/04/2021 | 24/04/2021 | £731.90 | |
| 07/11/2020 | 14/11/2020 | £496.22 | |
| 14/11/2020 | 21/11/2020 | £496.22 | |
| 28/11/2020 | 05/12/2020 | £493.90 | |
| 05/12/2020 | 12/12/2020 | £493.90 | |
| 09/01/2021 | 16/01/2021 | £689.90 | |
| 16/01/2021 | 23/01/2021 | £689.90 | |
| 30/01/2021 | 06/02/2021 | £934.90 | |
| 20/02/2021 | 27/02/2021 | £934.90 | |
| 06/03/2021 | 13/03/2021 | £689.90 | |
| 13/03/2021 | 20/03/2021 | £689.90 | |
| 20/03/2021 | 27/03/2021 | £689.90 | |
| 27/03/2021 | 03/04/2021 | £689.90 | |
| 03/04/2021 | 10/04/2021 | £689.90 | |
| 10/04/2021 | 17/04/2021 | £689.90 | |
| 17/04/2021 | 24/04/2021 | £689.90 | |
| 06/11/2021 | 13/11/2021 | £472.90 | |
| 13/11/2021 | 20/11/2021 | £472.90 | |
| 07/11/2020 | 14/11/2020 | £6720 | |
| 14/11/2020 | 21/11/2020 | £6720 | |
| 28/11/2020 | 05/12/2020 | £6650 | |
| 05/12/2020 | 12/12/2020 | £6650 | |
| 09/01/2021 | 16/01/2021 | £5810 | |
| 16/01/2021 | 23/01/2021 | £5810 | |
| 30/01/2021 | 06/02/2021 | £7210 | |
| 27/02/2021 | 06/03/2021 | £7210 | |
| 06/03/2021 | 13/03/2021 | £7210 | |
| 13/03/2021 | 20/03/2021 | £7210 | |
| 20/03/2021 | 27/03/2021 | £7210 | |
| 27/03/2021 | 03/04/2021 | £7210 | |
| 10/04/2021 | 17/04/2021 | £5810 | |
| 17/04/2021 | 24/04/2021 | £5810 | |
| 06/11/2021 | 13/11/2021 | £6650 | |
| 13/11/2021 | 20/11/2021 | £6650 | |
| 07/11/2020 | 14/11/2020 | £577.12 | |
| 14/11/2020 | 21/11/2020 | £577.12 | |
| 28/11/2020 | 05/12/2020 | £620.16 | |
| 05/12/2020 | 12/12/2020 | £620.16 | |
| 09/01/2021 | 16/01/2021 | £620.16 | |
| 06/03/2021 | 13/03/2021 | £641.16 | |
| 13/03/2021 | 20/03/2021 | £641.16 | |
| 20/03/2021 | 27/03/2021 | £641.16 | |
| 27/03/2021 | 03/04/2021 | £641.16 | |
| 10/04/2021 | 17/04/2021 | £606.16 | |
| 17/04/2021 | 24/04/2021 | £606.16 | |
| 06/11/2021 | 13/11/2021 | £606.16 | |
| 13/11/2021 | 20/11/2021 | £606.16 | |
| 27/11/2021 | 04/12/2021 | £620.16 | |
| 04/12/2021 | 11/12/2021 | £620.16 | |
| 08/01/2022 | 15/01/2022 | £620.16 | |
| 05/02/2022 | 12/02/2022 | £823.16 | |
| 05/03/2022 | 12/03/2022 | £641.16 | |
| 19/03/2022 | 26/03/2022 | £606.16 | |
| 26/03/2022 | 02/04/2022 | £606.16 | |
| 02/04/2022 | 09/04/2022 | £606.16 | |
| 09/04/2022 | 16/04/2022 | £606.16 | |
| 16/04/2022 | 23/04/2022 | £606.16 | |
| 05/11/2022 | 12/11/2022 | £606.16 | |
| 12/11/2022 | 19/11/2022 | £606.16 | |
| 07/11/2020 | 14/11/2020 | £199.90 | |
| 14/11/2020 | 21/11/2020 | £199.90 | |
| 28/11/2020 | 05/12/2020 | £229.28 | |
| 05/12/2020 | 12/12/2020 | £229.28 | |
| 09/01/2021 | 16/01/2021 | £229.28 | |
| 16/01/2021 | 23/01/2021 | £229.28 | |
| 23/01/2021 | 30/01/2021 | £229.28 | |
| 06/03/2021 | 13/03/2021 | £243.28 | |
| 13/03/2021 | 20/03/2021 | £243.28 | |
| 20/03/2021 | 27/03/2021 | £243.28 | |
| 27/03/2021 | 03/04/2021 | £243.28 | |
| 10/04/2021 | 17/04/2021 | £201.28 | |
| 17/04/2021 | 24/04/2021 | £201.28 | |
| 06/11/2021 | 13/11/2021 | £201.28 | |
| 13/11/2021 | 20/11/2021 | £201.28 | |
| 07/11/2020 | 14/11/2020 | £406.02 | |
| 14/11/2020 | 21/11/2020 | £406.02 | |
| 28/11/2020 | 05/12/2020 | £654.02 | |
| 05/12/2020 | 12/12/2020 | £654.02 | |
| 09/01/2021 | 16/01/2021 | £738.02 | |
| 16/01/2021 | 23/01/2021 | £738.02 | |
| 23/01/2021 | 30/01/2021 | £738.02 | |
| 13/02/2021 | 20/02/2021 | £962.02 | |
| 06/03/2021 | 13/03/2021 | £738.02 | |
| 13/03/2021 | 20/03/2021 | £738.02 | |
| 20/03/2021 | 27/03/2021 | £738.02 | |
| 27/03/2021 | 03/04/2021 | £738.02 | |
| 10/04/2021 | 17/04/2021 | £654.02 | |
| 17/04/2021 | 24/04/2021 | £654.02 | |
| 06/11/2021 | 13/11/2021 | £402.02 | |
| 13/11/2021 | 20/11/2021 | £402.02 | |
| 07/11/2020 | 14/11/2020 | £424.68 | |
| 14/11/2020 | 21/11/2020 | £424.68 | |
| 28/11/2020 | 05/12/2020 | £421.16 | |
| 05/12/2020 | 12/12/2020 | £421.16 | |
| 09/01/2021 | 16/01/2021 | £449.16 | |
| 16/01/2021 | 23/01/2021 | £449.16 | |
| 23/01/2021 | 30/01/2021 | £449.16 | |
| 20/02/2021 | 27/02/2021 | £603.16 | |
| 06/03/2021 | 13/03/2021 | £421.16 | |
| 13/03/2021 | 20/03/2021 | £421.16 | |
| 10/04/2021 | 17/04/2021 | £393.16 | |
| 17/04/2021 | 24/04/2021 | £393.16 | |
| 06/11/2021 | 13/11/2021 | £428.16 | |
| 13/11/2021 | 20/11/2021 | £428.16 | |
| 07/11/2020 | 14/11/2020 | £645.56 | |
| 14/11/2020 | 21/11/2020 | £645.56 | |
| 28/11/2020 | 05/12/2020 | £592.62 | |
| 05/12/2020 | 12/12/2020 | £592.62 | |
| 09/01/2021 | 16/01/2021 | £907.62 | |
| 16/01/2021 | 23/01/2021 | £907.62 | |
| 13/02/2021 | 20/02/2021 | £1397.62 | |
| 06/03/2021 | 13/03/2021 | £893.62 | |
| 13/03/2021 | 20/03/2021 | £893.62 | |
| 27/03/2021 | 03/04/2021 | £795.62 | |
| 10/04/2021 | 17/04/2021 | £620.62 | |
| 17/04/2021 | 24/04/2021 | £620.62 | |
| 06/11/2021 | 13/11/2021 | £620.62 | |
| 13/11/2021 | 20/11/2021 | £620.62 | |
Property Location
Distance to: Ski is 300m

Map
Available Facilities
Shower
Hiking Plains
Mountain Biking
Biking Plains
Sailing

Cross Country Skiing
Ice Rink
Skiarea
Snowboard
Riding

Elevator
Tv
Internet
WiFi
Dvdplayer