Les Pistes
Tignes - France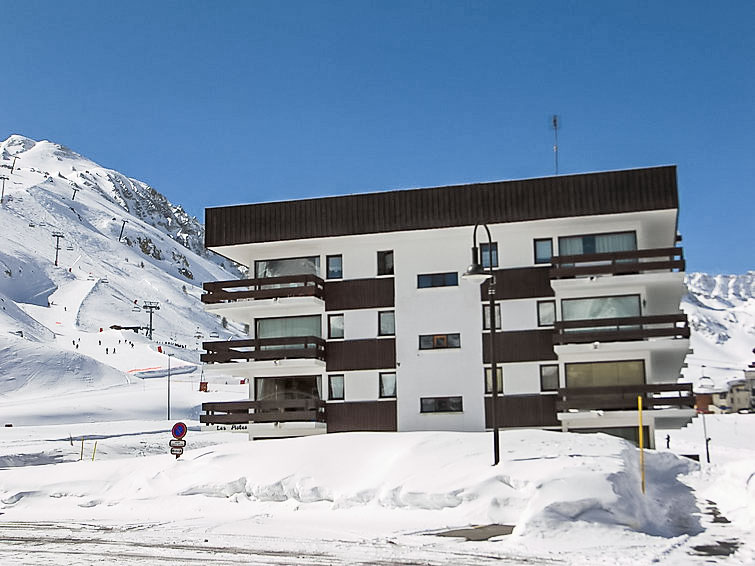 4 Guest(s)
1 Room(s)
1 Bedroom(s)
1 Bathroom(s)
Apartment
** Stars
Introduction to Les Pistes
School holiday weeks tend to be the most expensive throughout the ski season, remember this also includes school holidays in other countries other than the UK.
Tignes in France is very popular with British skiers and offers many activities additional to the fun you will have on the slopes.
This 2 star property Les Pistes-Tignes includes everything you need for your ski holiday, even a nice view.
At only 150m from the pistes this ski apartment is nicely located and can sleep up to 4 guests
Les Pistes-Tignes is closely located to a ski and snowboard rental shop, which is handy! You can also pre-order your equipment online in advance and receive up to 40% discount!
Ski Holiday Overview
Les Pistes - ski94
Resort: Tignes
Region: Savoie - Haute Savoie - Alps
Country: France
Stars: **
Number of guests: 4
Size: 25 m²
Rooms: 1
Bedrooms: 1
Toilets: 1
Bathrooms: 1
Customer rating: 3.8 out of 5 from 9 reviews
SkiGB Property Code:
ski94
*This property is provided by our partner Interhome, a new window to their website will open.
| Arrival Date | Departure Date | 7 Nights | Book |
| --- | --- | --- | --- |
| 07/03/2020 | 14/03/2020 | £11690 | |
| 14/03/2020 | 21/03/2020 | £11690 | |
| 21/03/2020 | 28/03/2020 | £11690 | |
| 28/03/2020 | 04/04/2020 | £11690 | |
| 04/04/2020 | 11/04/2020 | £11690 | |
| 07/03/2020 | 14/03/2020 | £11690 | |
| 14/03/2020 | 21/03/2020 | £11690 | |
| 21/03/2020 | 28/03/2020 | £11690 | |
| 28/03/2020 | 04/04/2020 | £11690 | |
| 04/04/2020 | 11/04/2020 | £11690 | |
| 07/11/2020 | 14/11/2020 | £1654.88 | |
| 14/11/2020 | 21/11/2020 | £1654.88 | |
| 28/11/2020 | 05/12/2020 | £1634.94 | |
| 05/12/2020 | 12/12/2020 | £1634.94 | |
| 09/01/2021 | 16/01/2021 | £1704.94 | |
| 16/01/2021 | 23/01/2021 | £1704.94 | |
| 23/01/2021 | 30/01/2021 | £1704.94 | |
| 20/02/2021 | 27/02/2021 | £1984.94 | |
| 06/03/2021 | 13/03/2021 | £1655.94 | |
| 13/03/2021 | 20/03/2021 | £1655.94 | |
| 20/03/2021 | 27/03/2021 | £1655.94 | |
| 27/03/2021 | 03/04/2021 | £1655.94 | |
| 03/04/2021 | 10/04/2021 | £1655.94 | |
| 10/04/2021 | 17/04/2021 | £1655.94 | |
| 17/04/2021 | 24/04/2021 | £1655.94 | |
| 06/11/2021 | 13/11/2021 | £1655.94 | |
| 13/11/2021 | 20/11/2021 | £1655.94 | |
| 07/11/2020 | 14/11/2020 | £1781.10 | |
| 14/11/2020 | 21/11/2020 | £1781.10 | |
| 28/11/2020 | 05/12/2020 | £1755.12 | |
| 12/12/2020 | 19/12/2020 | £1797.12 | |
| 09/01/2021 | 16/01/2021 | £1846.12 | |
| 16/01/2021 | 23/01/2021 | £1846.12 | |
| 06/02/2021 | 13/02/2021 | £487.28 | |
| 13/02/2021 | 20/02/2021 | £487.28 | |
| 20/02/2021 | 27/02/2021 | £487.28 | |
| 06/03/2021 | 13/03/2021 | £1846.12 | |
| 13/03/2021 | 20/03/2021 | £1846.12 | |
| 20/03/2021 | 27/03/2021 | £1846.12 | |
| 27/03/2021 | 03/04/2021 | £1846.12 | |
| 03/04/2021 | 10/04/2021 | £1846.12 | |
| 10/04/2021 | 17/04/2021 | £1846.12 | |
| 17/04/2021 | 24/04/2021 | £1846.12 | |
| 06/11/2021 | 13/11/2021 | £1601.12 | |
| 13/11/2021 | 20/11/2021 | £1601.12 | |
| 07/11/2020 | 14/11/2020 | £4820 | |
| 14/11/2020 | 21/11/2020 | £4820 | |
| 28/11/2020 | 05/12/2020 | £511.24 | |
| 05/12/2020 | 12/12/2020 | £511.24 | |
| 12/12/2020 | 19/12/2020 | £511.24 | |
| 19/12/2020 | 26/12/2020 | £511.24 | |
| 16/01/2021 | 23/01/2021 | £560.24 | |
| 23/01/2021 | 30/01/2021 | £560.24 | |
| 13/02/2021 | 20/02/2021 | £756.24 | |
| 20/02/2021 | 27/02/2021 | £756.24 | |
| 27/02/2021 | 06/03/2021 | £756.24 | |
| 13/03/2021 | 20/03/2021 | £560.24 | |
| 20/03/2021 | 27/03/2021 | £560.24 | |
| 27/03/2021 | 03/04/2021 | £560.24 | |
| 03/04/2021 | 10/04/2021 | £560.24 | |
| 10/04/2021 | 17/04/2021 | £560.24 | |
| 17/04/2021 | 24/04/2021 | £560.24 | |
| 07/11/2020 | 14/11/2020 | £4820 | |
| 14/11/2020 | 21/11/2020 | £4820 | |
| 28/11/2020 | 05/12/2020 | £511.24 | |
| 05/12/2020 | 12/12/2020 | £511.24 | |
| 12/12/2020 | 19/12/2020 | £511.24 | |
| 19/12/2020 | 26/12/2020 | £511.24 | |
| 16/01/2021 | 23/01/2021 | £560.24 | |
| 23/01/2021 | 30/01/2021 | £560.24 | |
| 13/02/2021 | 20/02/2021 | £756.24 | |
| 20/02/2021 | 27/02/2021 | £756.24 | |
| 27/02/2021 | 06/03/2021 | £756.24 | |
| 13/03/2021 | 20/03/2021 | £560.24 | |
| 20/03/2021 | 27/03/2021 | £560.24 | |
| 27/03/2021 | 03/04/2021 | £560.24 | |
| 03/04/2021 | 10/04/2021 | £560.24 | |
| 10/04/2021 | 17/04/2021 | £560.24 | |
| 17/04/2021 | 24/04/2021 | £560.24 | |
| 07/11/2020 | 14/11/2020 | £4820 | |
| 14/11/2020 | 21/11/2020 | £4820 | |
| 28/11/2020 | 05/12/2020 | £511.24 | |
| 05/12/2020 | 12/12/2020 | £511.24 | |
| 12/12/2020 | 19/12/2020 | £511.24 | |
| 19/12/2020 | 26/12/2020 | £511.24 | |
| 16/01/2021 | 23/01/2021 | £560.24 | |
| 23/01/2021 | 30/01/2021 | £560.24 | |
| 13/02/2021 | 20/02/2021 | £756.24 | |
| 20/02/2021 | 27/02/2021 | £756.24 | |
| 27/02/2021 | 06/03/2021 | £756.24 | |
| 13/03/2021 | 20/03/2021 | £560.24 | |
| 20/03/2021 | 27/03/2021 | £560.24 | |
| 27/03/2021 | 03/04/2021 | £560.24 | |
| 03/04/2021 | 10/04/2021 | £560.24 | |
| 10/04/2021 | 17/04/2021 | £560.24 | |
| 17/04/2021 | 24/04/2021 | £560.24 | |
| 07/11/2020 | 14/11/2020 | £314.30 | |
| 14/11/2020 | 21/11/2020 | £314.30 | |
| 07/11/2020 | 14/11/2020 | £420.02 | |
| 14/11/2020 | 21/11/2020 | £420.02 | |
| 28/11/2020 | 05/12/2020 | £421.88 | |
| 05/12/2020 | 12/12/2020 | £421.88 | |
| 02/01/2021 | 09/01/2021 | £505.88 | |
| 09/01/2021 | 16/01/2021 | £505.88 | |
| 16/01/2021 | 23/01/2021 | £505.88 | |
| 30/01/2021 | 06/02/2021 | £547.88 | |
| 06/03/2021 | 13/03/2021 | £463.88 | |
| 13/03/2021 | 20/03/2021 | £463.88 | |
| 20/03/2021 | 27/03/2021 | £463.88 | |
| 27/03/2021 | 03/04/2021 | £463.88 | |
| 03/04/2021 | 10/04/2021 | £463.88 | |
| 10/04/2021 | 17/04/2021 | £463.88 | |
| 17/04/2021 | 24/04/2021 | £463.88 | |
| 06/11/2021 | 13/11/2021 | £463.88 | |
| 13/11/2021 | 20/11/2021 | £463.88 | |
| 20/11/2021 | 27/11/2021 | £463.88 | |
| 27/11/2021 | 04/12/2021 | £463.88 | |
| 04/12/2021 | 11/12/2021 | £463.88 | |
| 01/01/2022 | 08/01/2022 | £505.88 | |
| 08/01/2022 | 15/01/2022 | £505.88 | |
| 15/01/2022 | 22/01/2022 | £505.88 | |
| 22/01/2022 | 29/01/2022 | £505.88 | |
| 05/02/2022 | 12/02/2022 | £547.88 | |
| 12/02/2022 | 19/02/2022 | £547.88 | |
| 05/03/2022 | 12/03/2022 | £463.88 | |
| 12/03/2022 | 19/03/2022 | £463.88 | |
| 19/03/2022 | 26/03/2022 | £463.88 | |
| 26/03/2022 | 02/04/2022 | £463.88 | |
| 02/04/2022 | 09/04/2022 | £463.88 | |
| 09/04/2022 | 16/04/2022 | £463.88 | |
| 16/04/2022 | 23/04/2022 | £463.88 | |
| 05/11/2022 | 12/11/2022 | £463.88 | |
| 12/11/2022 | 19/11/2022 | £463.88 | |
| 07/11/2020 | 14/11/2020 | £491.52 | |
| 14/11/2020 | 21/11/2020 | £491.52 | |
| 28/11/2020 | 05/12/2020 | £488.36 | |
| 05/12/2020 | 12/12/2020 | £488.36 | |
| 09/01/2021 | 16/01/2021 | £488.36 | |
| 16/01/2021 | 23/01/2021 | £488.36 | |
| 20/02/2021 | 27/02/2021 | £635.36 | |
| 06/03/2021 | 13/03/2021 | £551.36 | |
| 13/03/2021 | 20/03/2021 | £551.36 | |
| 27/03/2021 | 03/04/2021 | £488.36 | |
| 10/04/2021 | 17/04/2021 | £474.36 | |
| 17/04/2021 | 24/04/2021 | £474.36 | |
| 06/11/2021 | 13/11/2021 | £488.36 | |
| 13/11/2021 | 20/11/2021 | £488.36 | |
| 07/11/2020 | 14/11/2020 | £9660 | |
| 14/11/2020 | 21/11/2020 | £9660 | |
| 21/11/2020 | 28/11/2020 | £9660 | |
| 28/11/2020 | 05/12/2020 | £9660 | |
| 05/12/2020 | 12/12/2020 | £9660 | |
| 16/01/2021 | 23/01/2021 | £10990 | |
| 20/02/2021 | 27/02/2021 | £13510 | |
| 13/03/2021 | 20/03/2021 | £10080 | |
| 10/04/2021 | 17/04/2021 | £9660 | |
| 06/11/2021 | 13/11/2021 | £3920 | |
| 13/11/2021 | 20/11/2021 | £3920 | |
| 07/11/2020 | 14/11/2020 | £426.22 | |
| 14/11/2020 | 21/11/2020 | £426.22 | |
| 28/11/2020 | 05/12/2020 | £444.90 | |
| 05/12/2020 | 12/12/2020 | £444.90 | |
| 09/01/2021 | 16/01/2021 | £493.90 | |
| 16/01/2021 | 23/01/2021 | £493.90 | |
| 23/01/2021 | 30/01/2021 | £493.90 | |
| 20/02/2021 | 27/02/2021 | £570.90 | |
| 06/03/2021 | 13/03/2021 | £493.90 | |
| 13/03/2021 | 20/03/2021 | £493.90 | |
| 27/03/2021 | 03/04/2021 | £444.90 | |
| 03/04/2021 | 10/04/2021 | £444.90 | |
| 10/04/2021 | 17/04/2021 | £444.90 | |
| 17/04/2021 | 24/04/2021 | £444.90 | |
| 06/11/2021 | 13/11/2021 | £423.90 | |
| 13/11/2021 | 20/11/2021 | £423.90 | |
| 07/11/2020 | 14/11/2020 | £623.86 | |
| 14/11/2020 | 21/11/2020 | £623.86 | |
| 28/11/2020 | 05/12/2020 | £689.62 | |
| 05/12/2020 | 12/12/2020 | £689.62 | |
| 09/01/2021 | 16/01/2021 | £759.62 | |
| 23/01/2021 | 30/01/2021 | £906.62 | |
| 13/02/2021 | 20/02/2021 | £1466.62 | |
| 06/03/2021 | 13/03/2021 | £1046.62 | |
| 20/03/2021 | 27/03/2021 | £906.62 | |
| 27/03/2021 | 03/04/2021 | £906.62 | |
| 17/04/2021 | 24/04/2021 | £759.62 | |
| 06/11/2021 | 13/11/2021 | £619.62 | |
| 13/11/2021 | 20/11/2021 | £619.62 | |
| 07/11/2020 | 14/11/2020 | £408.36 | |
| 14/11/2020 | 21/11/2020 | £408.36 | |
| 28/11/2020 | 05/12/2020 | £403.88 | |
| 05/12/2020 | 12/12/2020 | £403.88 | |
| 09/01/2021 | 16/01/2021 | £494.88 | |
| 23/01/2021 | 30/01/2021 | £585.88 | |
| 13/02/2021 | 20/02/2021 | £935.88 | |
| 06/03/2021 | 13/03/2021 | £669.88 | |
| 20/03/2021 | 27/03/2021 | £585.88 | |
| 10/04/2021 | 17/04/2021 | £494.88 | |
| 06/11/2021 | 13/11/2021 | £403.88 | |
| 13/11/2021 | 20/11/2021 | £403.88 | |
| 07/11/2020 | 14/11/2020 | £602.02 | |
| 14/11/2020 | 21/11/2020 | £602.02 | |
| 28/11/2020 | 05/12/2020 | £682.02 | |
| 05/12/2020 | 12/12/2020 | £682.02 | |
| 09/01/2021 | 16/01/2021 | £682.02 | |
| 16/01/2021 | 23/01/2021 | £682.02 | |
| 23/01/2021 | 30/01/2021 | £682.02 | |
| 20/02/2021 | 27/02/2021 | £850.02 | |
| 06/03/2021 | 13/03/2021 | £654.02 | |
| 13/03/2021 | 20/03/2021 | £654.02 | |
| 27/03/2021 | 03/04/2021 | £584.02 | |
| 03/04/2021 | 10/04/2021 | £584.02 | |
| 10/04/2021 | 17/04/2021 | £584.02 | |
| 17/04/2021 | 24/04/2021 | £584.02 | |
| 06/11/2021 | 13/11/2021 | £591.02 | |
| 13/11/2021 | 20/11/2021 | £591.02 | |
| 07/11/2020 | 14/11/2020 | £556.86 | |
| 14/11/2020 | 21/11/2020 | £556.86 | |
| 28/11/2020 | 05/12/2020 | £553.16 | |
| 05/12/2020 | 12/12/2020 | £553.16 | |
| 09/01/2021 | 16/01/2021 | £581.16 | |
| 16/01/2021 | 23/01/2021 | £581.16 | |
| 23/01/2021 | 30/01/2021 | £581.16 | |
| 20/02/2021 | 27/02/2021 | £609.16 | |
| 06/03/2021 | 13/03/2021 | £567.16 | |
| 13/03/2021 | 20/03/2021 | £567.16 | |
| 10/04/2021 | 17/04/2021 | £441.16 | |
| 17/04/2021 | 24/04/2021 | £441.16 | |
| 06/11/2021 | 13/11/2021 | £483.16 | |
| 13/11/2021 | 20/11/2021 | £483.16 | |
| 07/11/2020 | 14/11/2020 | £1889.76 | |
| 14/11/2020 | 21/11/2020 | £1889.76 | |
| 21/11/2020 | 28/11/2020 | £1889.76 | |
| 28/11/2020 | 05/12/2020 | £1889.76 | |
| 05/12/2020 | 12/12/2020 | £1889.76 | |
| 09/01/2021 | 16/01/2021 | £2117.90 | |
| 16/01/2021 | 23/01/2021 | £2117.90 | |
| 23/01/2021 | 30/01/2021 | £2117.90 | |
| 06/02/2021 | 13/02/2021 | £2439.90 | |
| 13/02/2021 | 20/02/2021 | £2439.90 | |
| 20/02/2021 | 27/02/2021 | £2439.90 | |
| 06/03/2021 | 13/03/2021 | £2054.90 | |
| 13/03/2021 | 20/03/2021 | £2054.90 | |
| 03/04/2021 | 10/04/2021 | £2054.90 | |
| 10/04/2021 | 17/04/2021 | £2054.90 | |
| 17/04/2021 | 24/04/2021 | £2054.90 | |
| 07/11/2020 | 14/11/2020 | £305.66 | |
| 14/11/2020 | 21/11/2020 | £305.66 | |
| 28/11/2020 | 05/12/2020 | £300.28 | |
| 05/12/2020 | 12/12/2020 | £300.28 | |
| 09/01/2021 | 16/01/2021 | £391.28 | |
| 16/01/2021 | 23/01/2021 | £391.28 | |
| 06/03/2021 | 13/03/2021 | £398.28 | |
| 13/03/2021 | 20/03/2021 | £398.28 | |
| 27/03/2021 | 03/04/2021 | £391.28 | |
| 10/04/2021 | 17/04/2021 | £300.28 | |
| 17/04/2021 | 24/04/2021 | £300.28 | |
| 06/11/2021 | 13/11/2021 | £300.28 | |
| 13/11/2021 | 20/11/2021 | £300.28 | |
| 07/11/2020 | 14/11/2020 | £961.36 | |
| 14/11/2020 | 21/11/2020 | £961.36 | |
| 28/11/2020 | 05/12/2020 | £1276.32 | |
| 05/12/2020 | 12/12/2020 | £1276.32 | |
| 09/01/2021 | 16/01/2021 | £1577.32 | |
| 16/01/2021 | 23/01/2021 | £1577.32 | |
| 06/03/2021 | 13/03/2021 | £1696.32 | |
| 13/03/2021 | 20/03/2021 | £1696.32 | |
| 27/03/2021 | 03/04/2021 | £1689.32 | |
| 10/04/2021 | 17/04/2021 | £954.32 | |
| 17/04/2021 | 24/04/2021 | £954.32 | |
| 06/11/2021 | 13/11/2021 | £954.32 | |
| 13/11/2021 | 20/11/2021 | £954.32 | |
| 07/11/2020 | 14/11/2020 | £3640 | |
| 14/11/2020 | 21/11/2020 | £3640 | |
| 21/11/2020 | 28/11/2020 | £3640 | |
| 28/11/2020 | 05/12/2020 | £3640 | |
| 05/12/2020 | 12/12/2020 | £3640 | |
| 09/01/2021 | 16/01/2021 | £3850 | |
| 16/01/2021 | 23/01/2021 | £3850 | |
| 23/01/2021 | 30/01/2021 | £3850 | |
| 20/02/2021 | 27/02/2021 | £5670 | |
| 06/03/2021 | 13/03/2021 | £3990 | |
| 13/03/2021 | 20/03/2021 | £3990 | |
| 20/03/2021 | 27/03/2021 | £3990 | |
| 27/03/2021 | 03/04/2021 | £3990 | |
| 03/04/2021 | 10/04/2021 | £3990 | |
| 10/04/2021 | 17/04/2021 | £3990 | |
| 17/04/2021 | 24/04/2021 | £3990 | |
| 07/11/2020 | 14/11/2020 | £1150.06 | |
| 14/11/2020 | 21/11/2020 | £1150.06 | |
| 28/11/2020 | 05/12/2020 | £486.76 | |
| 05/12/2020 | 12/12/2020 | £486.76 | |
| 09/01/2021 | 16/01/2021 | £598.76 | |
| 16/01/2021 | 23/01/2021 | £598.76 | |
| 23/01/2021 | 30/01/2021 | £598.76 | |
| 20/02/2021 | 27/02/2021 | £815.76 | |
| 06/03/2021 | 13/03/2021 | £556.76 | |
| 13/03/2021 | 20/03/2021 | £556.76 | |
| 07/11/2020 | 14/11/2020 | £406.02 | |
| 14/11/2020 | 21/11/2020 | £406.02 | |
| 28/11/2020 | 05/12/2020 | £654.02 | |
| 05/12/2020 | 12/12/2020 | £654.02 | |
| 09/01/2021 | 16/01/2021 | £738.02 | |
| 16/01/2021 | 23/01/2021 | £738.02 | |
| 23/01/2021 | 30/01/2021 | £738.02 | |
| 13/02/2021 | 20/02/2021 | £962.02 | |
| 06/03/2021 | 13/03/2021 | £738.02 | |
| 13/03/2021 | 20/03/2021 | £738.02 | |
| 20/03/2021 | 27/03/2021 | £738.02 | |
| 27/03/2021 | 03/04/2021 | £738.02 | |
| 10/04/2021 | 17/04/2021 | £654.02 | |
| 17/04/2021 | 24/04/2021 | £654.02 | |
| 06/11/2021 | 13/11/2021 | £402.02 | |
| 13/11/2021 | 20/11/2021 | £402.02 | |
Property Location
Distance to: Ski is 150m

Map
Available Facilities
Shower
Hiking Plains
Mountain Biking
Biking Plains
Sailing
Cross Country Skiing

Ice Rink
Skiarea
Snowboard
Riding
Balcony

Dishwasher
Tv
Internet
WiFi
Microwave