Plein Soleil
Tignes - France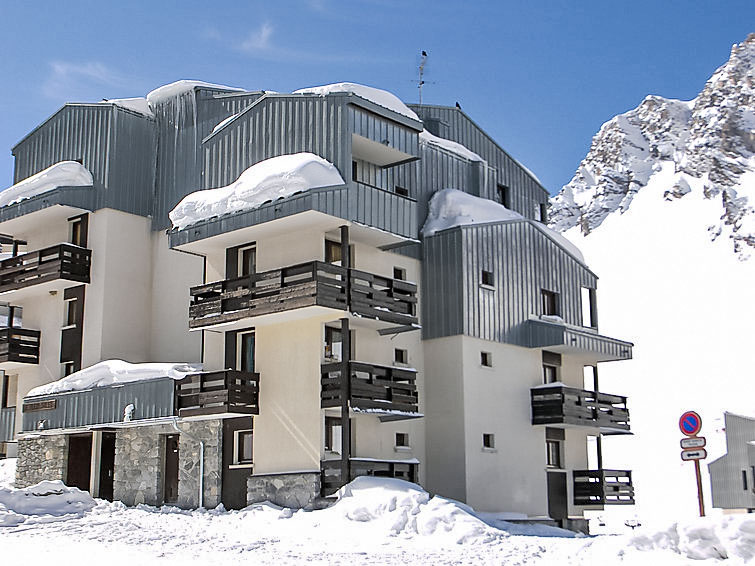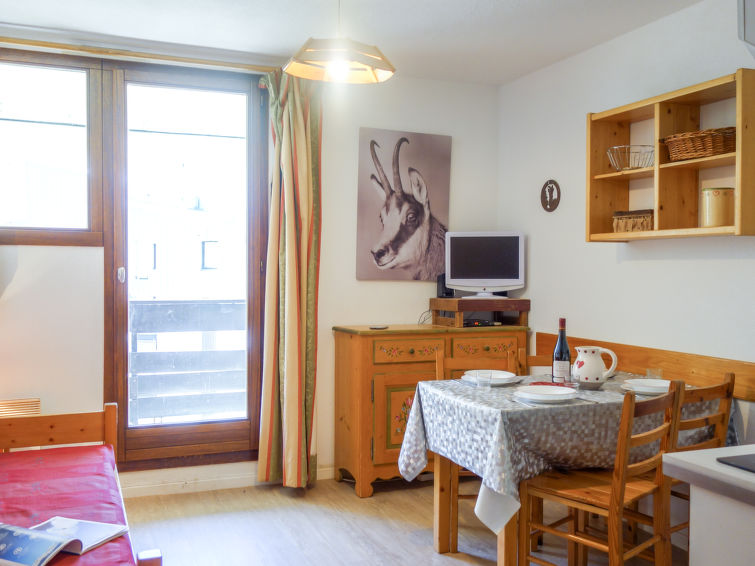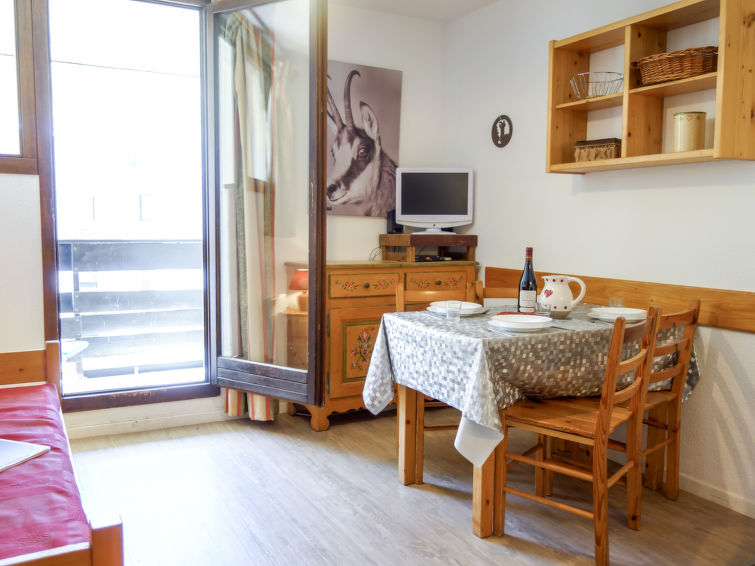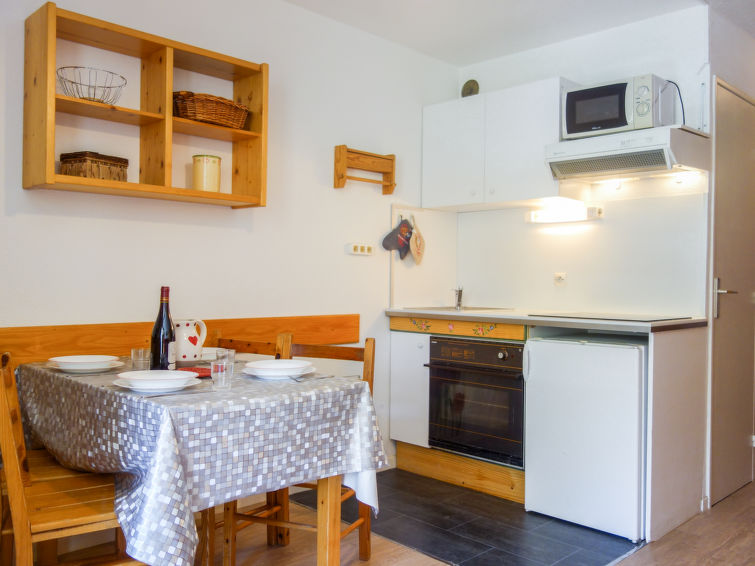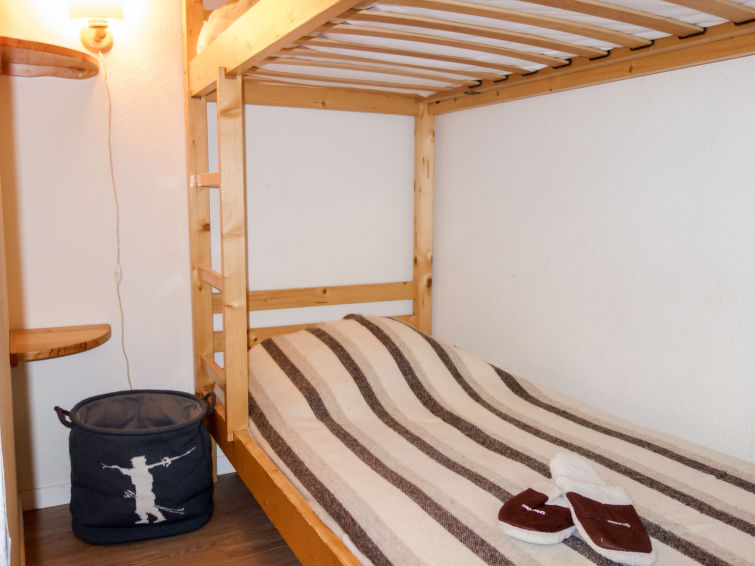 5 Guest(s)
1 Room(s)
1 Bedroom(s)
1 Bathroom(s)
Apartment
** Stars
Introduction to Plein Soleil
When looking for ski accommodation for your holiday you should try and pick the ski resort most suitable for your trip.
Tignes in France offers many activities additional to snow-sports that you should also try whilst in resort.
This 2 star property Plein Soleil-Tignes has great views, a real Instagram moment!
At only 50m from the pistes this ski apartment is nicely located and can sleep up to 5 guests
Plein Soleil-Tignes is close to a ski rental hire shop which will save you time when in resort. Additionally, if you order your equipment online in advance you save even more time as you will not need to select your equipment when in resort.
Ski Holiday Overview
Plein Soleil - ski100
Resort: Tignes
Region: Savoie - Haute Savoie - Alps
Country: France
Stars: **
Number of guests: 5
Size: 24 m²
Rooms: 1
Bedrooms: 1
Toilets: 1
Bathrooms: 1
Customer rating: 3.5 out of 5 from 2 reviews
SkiGB Property Code:
ski100
*This property is provided by our partner Interhome, a new window to their website will open.
| Arrival Date | Departure Date | 7 Nights | Book |
| --- | --- | --- | --- |
| 07/03/2020 | 14/03/2020 | £6650 | |
| 14/03/2020 | 21/03/2020 | £6650 | |
| 21/03/2020 | 28/03/2020 | £6650 | |
| 28/03/2020 | 04/04/2020 | £6650 | |
| 04/04/2020 | 11/04/2020 | £6650 | |
| 18/04/2020 | 25/04/2020 | £638.14 | |
| 07/03/2020 | 14/03/2020 | £6650 | |
| 14/03/2020 | 21/03/2020 | £6650 | |
| 21/03/2020 | 28/03/2020 | £6650 | |
| 28/03/2020 | 04/04/2020 | £6650 | |
| 04/04/2020 | 11/04/2020 | £6650 | |
| 18/04/2020 | 25/04/2020 | £638.14 | |
| 07/11/2020 | 14/11/2020 | £345.36 | |
| 14/11/2020 | 21/11/2020 | £345.36 | |
| 28/11/2020 | 05/12/2020 | £340.88 | |
| 05/12/2020 | 12/12/2020 | £340.88 | |
| 09/01/2021 | 16/01/2021 | £417.88 | |
| 23/01/2021 | 30/01/2021 | £487.88 | |
| 13/02/2021 | 20/02/2021 | £781.88 | |
| 06/03/2021 | 13/03/2021 | £564.88 | |
| 20/03/2021 | 27/03/2021 | £487.88 | |
| 27/03/2021 | 03/04/2021 | £487.88 | |
| 17/04/2021 | 24/04/2021 | £417.88 | |
| 06/11/2021 | 13/11/2021 | £340.88 | |
| 13/11/2021 | 20/11/2021 | £340.88 | |
| 07/11/2020 | 14/11/2020 | £338.36 | |
| 14/11/2020 | 21/11/2020 | £338.36 | |
| 28/11/2020 | 05/12/2020 | £815.04 | |
| 05/12/2020 | 12/12/2020 | £815.04 | |
| 09/01/2021 | 16/01/2021 | £142.76 | |
| 23/01/2021 | 30/01/2021 | £212.76 | |
| 13/02/2021 | 20/02/2021 | £541.76 | |
| 13/03/2021 | 20/03/2021 | £212.76 | |
| 27/03/2021 | 03/04/2021 | £296.76 | |
| 03/04/2021 | 10/04/2021 | £296.76 | |
| 17/04/2021 | 24/04/2021 | £142.76 | |
| 06/11/2021 | 13/11/2021 | £815.04 | |
| 13/11/2021 | 20/11/2021 | £815.04 | |
| 20/11/2021 | 27/11/2021 | £815.04 | |
| 27/11/2021 | 04/12/2021 | £815.04 | |
| 04/12/2021 | 11/12/2021 | £815.04 | |
| 25/12/2021 | 01/01/2022 | £541.76 | |
| 08/01/2022 | 15/01/2022 | £142.76 | |
| 22/01/2022 | 29/01/2022 | £212.76 | |
| 12/02/2022 | 19/02/2022 | £541.76 | |
| 12/03/2022 | 19/03/2022 | £212.76 | |
| 26/03/2022 | 02/04/2022 | £296.76 | |
| 02/04/2022 | 09/04/2022 | £296.76 | |
| 16/04/2022 | 23/04/2022 | £142.76 | |
| 05/11/2022 | 12/11/2022 | £815.04 | |
| 12/11/2022 | 19/11/2022 | £815.04 | |
| 07/11/2020 | 14/11/2020 | £338.36 | |
| 14/11/2020 | 21/11/2020 | £338.36 | |
| 28/11/2020 | 05/12/2020 | £815.04 | |
| 05/12/2020 | 12/12/2020 | £815.04 | |
| 09/01/2021 | 16/01/2021 | £142.76 | |
| 23/01/2021 | 30/01/2021 | £212.76 | |
| 13/02/2021 | 20/02/2021 | £541.76 | |
| 13/03/2021 | 20/03/2021 | £212.76 | |
| 27/03/2021 | 03/04/2021 | £296.76 | |
| 03/04/2021 | 10/04/2021 | £296.76 | |
| 17/04/2021 | 24/04/2021 | £142.76 | |
| 06/11/2021 | 13/11/2021 | £815.04 | |
| 13/11/2021 | 20/11/2021 | £815.04 | |
| 20/11/2021 | 27/11/2021 | £815.04 | |
| 27/11/2021 | 04/12/2021 | £815.04 | |
| 04/12/2021 | 11/12/2021 | £815.04 | |
| 25/12/2021 | 01/01/2022 | £541.76 | |
| 08/01/2022 | 15/01/2022 | £142.76 | |
| 22/01/2022 | 29/01/2022 | £212.76 | |
| 12/02/2022 | 19/02/2022 | £541.76 | |
| 12/03/2022 | 19/03/2022 | £212.76 | |
| 26/03/2022 | 02/04/2022 | £296.76 | |
| 02/04/2022 | 09/04/2022 | £296.76 | |
| 16/04/2022 | 23/04/2022 | £142.76 | |
| 05/11/2022 | 12/11/2022 | £815.04 | |
| 12/11/2022 | 19/11/2022 | £815.04 | |
| 07/11/2020 | 14/11/2020 | £338.36 | |
| 14/11/2020 | 21/11/2020 | £338.36 | |
| 28/11/2020 | 05/12/2020 | £815.04 | |
| 05/12/2020 | 12/12/2020 | £815.04 | |
| 09/01/2021 | 16/01/2021 | £142.76 | |
| 23/01/2021 | 30/01/2021 | £212.76 | |
| 13/02/2021 | 20/02/2021 | £541.76 | |
| 13/03/2021 | 20/03/2021 | £212.76 | |
| 27/03/2021 | 03/04/2021 | £296.76 | |
| 03/04/2021 | 10/04/2021 | £296.76 | |
| 17/04/2021 | 24/04/2021 | £142.76 | |
| 06/11/2021 | 13/11/2021 | £815.04 | |
| 13/11/2021 | 20/11/2021 | £815.04 | |
| 20/11/2021 | 27/11/2021 | £815.04 | |
| 27/11/2021 | 04/12/2021 | £815.04 | |
| 04/12/2021 | 11/12/2021 | £815.04 | |
| 25/12/2021 | 01/01/2022 | £541.76 | |
| 08/01/2022 | 15/01/2022 | £142.76 | |
| 22/01/2022 | 29/01/2022 | £212.76 | |
| 12/02/2022 | 19/02/2022 | £541.76 | |
| 12/03/2022 | 19/03/2022 | £212.76 | |
| 26/03/2022 | 02/04/2022 | £296.76 | |
| 02/04/2022 | 09/04/2022 | £296.76 | |
| 16/04/2022 | 23/04/2022 | £142.76 | |
| 05/11/2022 | 12/11/2022 | £815.04 | |
| 12/11/2022 | 19/11/2022 | £815.04 | |
| 05/12/2020 | 12/12/2020 | £702.32 | |
| 09/01/2021 | 16/01/2021 | £702.32 | |
| 16/01/2021 | 23/01/2021 | £702.32 | |
| 23/01/2021 | 30/01/2021 | £702.32 | |
| 06/02/2021 | 13/02/2021 | £961.32 | |
| 13/02/2021 | 20/02/2021 | £961.32 | |
| 20/02/2021 | 27/02/2021 | £961.32 | |
| 06/03/2021 | 13/03/2021 | £702.32 | |
| 13/03/2021 | 20/03/2021 | £702.32 | |
| 03/04/2021 | 10/04/2021 | £702.32 | |
| 10/04/2021 | 17/04/2021 | £702.32 | |
| 17/04/2021 | 24/04/2021 | £702.32 | |
| 06/11/2021 | 13/11/2021 | £702.32 | |
| 13/11/2021 | 20/11/2021 | £702.32 | |
| 07/11/2020 | 14/11/2020 | £913.10 | |
| 14/11/2020 | 21/11/2020 | £913.10 | |
| 28/11/2020 | 05/12/2020 | £903.30 | |
| 05/12/2020 | 12/12/2020 | £903.30 | |
| 16/01/2021 | 23/01/2021 | £924.30 | |
| 23/01/2021 | 30/01/2021 | £924.30 | |
| 06/02/2021 | 13/02/2021 | £1162.30 | |
| 13/02/2021 | 20/02/2021 | £1162.30 | |
| 20/02/2021 | 27/02/2021 | £1162.30 | |
| 06/03/2021 | 13/03/2021 | £924.30 | |
| 27/03/2021 | 03/04/2021 | £924.30 | |
| 10/04/2021 | 17/04/2021 | £826.30 | |
| 17/04/2021 | 24/04/2021 | £826.30 | |
| 07/11/2020 | 14/11/2020 | £615.20 | |
| 14/11/2020 | 21/11/2020 | £615.20 | |
| 28/11/2020 | 05/12/2020 | £609.88 | |
| 16/01/2021 | 23/01/2021 | £714.88 | |
| 23/01/2021 | 30/01/2021 | £714.88 | |
| 06/02/2021 | 13/02/2021 | £770.88 | |
| 13/02/2021 | 20/02/2021 | £770.88 | |
| 20/02/2021 | 27/02/2021 | £770.88 | |
| 27/02/2021 | 06/03/2021 | £770.88 | |
| 06/03/2021 | 13/03/2021 | £770.88 | |
| 27/03/2021 | 03/04/2021 | £784.88 | |
| 10/04/2021 | 17/04/2021 | £707.88 | |
| 17/04/2021 | 24/04/2021 | £707.88 | |
| 09/01/2021 | 16/01/2021 | £853.52 | |
| 16/01/2021 | 23/01/2021 | £853.52 | |
| 23/01/2021 | 30/01/2021 | £853.52 | |
| 06/02/2021 | 13/02/2021 | £979.52 | |
| 13/02/2021 | 20/02/2021 | £979.52 | |
| 20/02/2021 | 27/02/2021 | £979.52 | |
| 06/03/2021 | 13/03/2021 | £853.52 | |
| 13/03/2021 | 20/03/2021 | £853.52 | |
| 07/11/2020 | 14/11/2020 | £2228.36 | |
| 14/11/2020 | 21/11/2020 | £2228.36 | |
| 07/11/2020 | 14/11/2020 | £6090 | |
| 14/11/2020 | 21/11/2020 | £6090 | |
| 21/11/2020 | 28/11/2020 | £6090 | |
| 28/11/2020 | 05/12/2020 | £6090 | |
| 05/12/2020 | 12/12/2020 | £6090 | |
| 02/01/2021 | 09/01/2021 | £6090 | |
| 09/01/2021 | 16/01/2021 | £6090 | |
| 16/01/2021 | 23/01/2021 | £6090 | |
| 23/01/2021 | 30/01/2021 | £6090 | |
| 20/02/2021 | 27/02/2021 | £9660 | |
| 06/03/2021 | 13/03/2021 | £8540 | |
| 13/03/2021 | 20/03/2021 | £8540 | |
| 20/03/2021 | 27/03/2021 | £8540 | |
| 27/03/2021 | 03/04/2021 | £8540 | |
| 03/04/2021 | 10/04/2021 | £8540 | |
| 10/04/2021 | 17/04/2021 | £8540 | |
| 17/04/2021 | 24/04/2021 | £8540 | |
| 07/11/2020 | 14/11/2020 | £822.14 | |
| 14/11/2020 | 21/11/2020 | £822.14 | |
| 28/11/2020 | 05/12/2020 | £916.62 | |
| 05/12/2020 | 12/12/2020 | £916.62 | |
| 09/01/2021 | 16/01/2021 | £1112.62 | |
| 23/01/2021 | 30/01/2021 | £1308.62 | |
| 13/02/2021 | 20/02/2021 | £2106.62 | |
| 13/03/2021 | 20/03/2021 | £1308.62 | |
| 27/03/2021 | 03/04/2021 | £1511.62 | |
| 03/04/2021 | 10/04/2021 | £1511.62 | |
| 17/04/2021 | 24/04/2021 | £1112.62 | |
| 06/11/2021 | 13/11/2021 | £916.62 | |
| 13/11/2021 | 20/11/2021 | £916.62 | |
| 20/11/2021 | 27/11/2021 | £916.62 | |
| 27/11/2021 | 04/12/2021 | £916.62 | |
| 04/12/2021 | 11/12/2021 | £916.62 | |
| 25/12/2021 | 01/01/2022 | £2106.62 | |
| 08/01/2022 | 15/01/2022 | £1112.62 | |
| 22/01/2022 | 29/01/2022 | £1308.62 | |
| 12/02/2022 | 19/02/2022 | £2106.62 | |
| 12/03/2022 | 19/03/2022 | £1308.62 | |
| 26/03/2022 | 02/04/2022 | £1511.62 | |
| 02/04/2022 | 09/04/2022 | £1511.62 | |
| 16/04/2022 | 23/04/2022 | £1112.62 | |
| 05/11/2022 | 12/11/2022 | £916.62 | |
| 12/11/2022 | 19/11/2022 | £916.62 | |
| 07/11/2020 | 14/11/2020 | £450.36 | |
| 14/11/2020 | 21/11/2020 | £450.36 | |
| 28/11/2020 | 05/12/2020 | £445.88 | |
| 05/12/2020 | 12/12/2020 | £445.88 | |
| 09/01/2021 | 16/01/2021 | £543.88 | |
| 23/01/2021 | 30/01/2021 | £648.88 | |
| 13/02/2021 | 20/02/2021 | £1040.88 | |
| 06/03/2021 | 13/03/2021 | £739.88 | |
| 20/03/2021 | 27/03/2021 | £648.88 | |
| 27/03/2021 | 03/04/2021 | £648.88 | |
| 06/11/2021 | 13/11/2021 | £445.88 | |
| 13/11/2021 | 20/11/2021 | £445.88 | |
| 07/11/2020 | 14/11/2020 | £1204.82 | |
| 14/11/2020 | 21/11/2020 | £1204.82 | |
| 21/11/2020 | 28/11/2020 | £1204.82 | |
| 28/11/2020 | 05/12/2020 | £1204.82 | |
| 05/12/2020 | 12/12/2020 | £1204.82 | |
| 09/01/2021 | 16/01/2021 | £794.76 | |
| 16/01/2021 | 23/01/2021 | £794.76 | |
| 23/01/2021 | 30/01/2021 | £794.76 | |
| 06/02/2021 | 13/02/2021 | £815.76 | |
| 13/02/2021 | 20/02/2021 | £815.76 | |
| 20/02/2021 | 27/02/2021 | £815.76 | |
| 06/03/2021 | 13/03/2021 | £577.76 | |
| 13/03/2021 | 20/03/2021 | £577.76 | |
| 20/03/2021 | 27/03/2021 | £577.76 | |
| 27/03/2021 | 03/04/2021 | £577.76 | |
| 03/04/2021 | 10/04/2021 | £577.76 | |
| 10/04/2021 | 17/04/2021 | £577.76 | |
| 06/11/2021 | 13/11/2021 | £549.76 | |
| 13/11/2021 | 20/11/2021 | £549.76 | |
| 07/11/2020 | 14/11/2020 | £471.36 | |
| 14/11/2020 | 21/11/2020 | £471.36 | |
| 28/11/2020 | 05/12/2020 | £466.88 | |
| 05/12/2020 | 12/12/2020 | £466.88 | |
| 02/01/2021 | 09/01/2021 | £655.88 | |
| 23/01/2021 | 30/01/2021 | £655.88 | |
| 06/02/2021 | 13/02/2021 | £1033.88 | |
| 13/02/2021 | 20/02/2021 | £1033.88 | |
| 20/02/2021 | 27/02/2021 | £1033.88 | |
| 06/03/2021 | 13/03/2021 | £753.88 | |
| 20/03/2021 | 27/03/2021 | £655.88 | |
| 27/03/2021 | 03/04/2021 | £655.88 | |
| 17/04/2021 | 24/04/2021 | £690.88 | |
| 06/11/2021 | 13/11/2021 | £466.88 | |
| 13/11/2021 | 20/11/2021 | £466.88 | |
| 07/11/2020 | 14/11/2020 | £652.62 | |
| 14/11/2020 | 21/11/2020 | £652.62 | |
| 28/11/2020 | 05/12/2020 | £648.62 | |
| 05/12/2020 | 12/12/2020 | £648.62 | |
| 09/01/2021 | 16/01/2021 | £788.62 | |
| 23/01/2021 | 30/01/2021 | £935.62 | |
| 13/02/2021 | 20/02/2021 | £1516.62 | |
| 06/03/2021 | 13/03/2021 | £1082.62 | |
| 20/03/2021 | 27/03/2021 | £935.62 | |
| 27/03/2021 | 03/04/2021 | £935.62 | |
| 17/04/2021 | 24/04/2021 | £788.62 | |
| 06/11/2021 | 13/11/2021 | £648.62 | |
| 13/11/2021 | 20/11/2021 | £648.62 | |
| 07/11/2020 | 14/11/2020 | £1251.06 | |
| 14/11/2020 | 21/11/2020 | £1251.06 | |
| 21/11/2020 | 28/11/2020 | £1251.06 | |
| 28/11/2020 | 05/12/2020 | £1251.06 | |
| 05/12/2020 | 12/12/2020 | £1251.06 | |
| 09/01/2021 | 16/01/2021 | £587.36 | |
| 16/01/2021 | 23/01/2021 | £587.36 | |
| 23/01/2021 | 30/01/2021 | £587.36 | |
| 06/02/2021 | 13/02/2021 | £692.36 | |
| 13/02/2021 | 20/02/2021 | £692.36 | |
| 20/02/2021 | 27/02/2021 | £692.36 | |
| 06/03/2021 | 13/03/2021 | £580.36 | |
| 13/03/2021 | 20/03/2021 | £580.36 | |
| 20/03/2021 | 27/03/2021 | £580.36 | |
| 27/03/2021 | 03/04/2021 | £580.36 | |
| 03/04/2021 | 10/04/2021 | £580.36 | |
| 10/04/2021 | 17/04/2021 | £580.36 | |
| 06/11/2021 | 13/11/2021 | £601.36 | |
| 13/11/2021 | 20/11/2021 | £601.36 | |
| 07/11/2020 | 14/11/2020 | £7840 | |
| 14/11/2020 | 21/11/2020 | £7840 | |
| 28/11/2020 | 05/12/2020 | £782.64 | |
| 05/12/2020 | 12/12/2020 | £782.64 | |
| 09/01/2021 | 16/01/2021 | £859.64 | |
| 16/01/2021 | 23/01/2021 | £859.64 | |
| 20/02/2021 | 27/02/2021 | £1321.64 | |
| 06/03/2021 | 13/03/2021 | £866.64 | |
| 20/03/2021 | 27/03/2021 | £831.64 | |
| 27/03/2021 | 03/04/2021 | £831.64 | |
| 03/04/2021 | 10/04/2021 | £831.64 | |
| 10/04/2021 | 17/04/2021 | £831.64 | |
| 17/04/2021 | 24/04/2021 | £831.64 | |
| 07/11/2020 | 14/11/2020 | £251.20 | |
| 14/11/2020 | 21/11/2020 | £251.20 | |
| 28/11/2020 | 05/12/2020 | £301.88 | |
| 05/12/2020 | 12/12/2020 | £301.88 | |
| 09/01/2021 | 16/01/2021 | £301.88 | |
| 16/01/2021 | 23/01/2021 | £301.88 | |
| 23/01/2021 | 30/01/2021 | £301.88 | |
| 06/03/2021 | 13/03/2021 | £350.88 | |
| 13/03/2021 | 20/03/2021 | £350.88 | |
| 20/03/2021 | 27/03/2021 | £350.88 | |
| 27/03/2021 | 03/04/2021 | £350.88 | |
| 10/04/2021 | 17/04/2021 | £252.88 | |
| 17/04/2021 | 24/04/2021 | £252.88 | |
| 06/11/2021 | 13/11/2021 | £252.88 | |
| 13/11/2021 | 20/11/2021 | £252.88 | |
| 07/11/2020 | 14/11/2020 | £4690 | |
| 14/11/2020 | 21/11/2020 | £4690 | |
| 28/11/2020 | 05/12/2020 | £6300 | |
| 05/12/2020 | 12/12/2020 | £6300 | |
| 09/01/2021 | 16/01/2021 | £6300 | |
| 16/01/2021 | 23/01/2021 | £6300 | |
| 23/01/2021 | 30/01/2021 | £6300 | |
| 06/02/2021 | 13/02/2021 | £11760 | |
| 13/02/2021 | 20/02/2021 | £11760 | |
| 27/02/2021 | 06/03/2021 | £6300 | |
| 06/03/2021 | 13/03/2021 | £6300 | |
| 13/03/2021 | 20/03/2021 | £6300 | |
| 20/03/2021 | 27/03/2021 | £6300 | |
| 27/03/2021 | 03/04/2021 | £6300 | |
| 10/04/2021 | 17/04/2021 | £4200 | |
| 17/04/2021 | 24/04/2021 | £4200 | |
| 06/11/2021 | 13/11/2021 | £4200 | |
| 13/11/2021 | 20/11/2021 | £4200 | |
| 07/11/2020 | 14/11/2020 | £371.02 | |
| 14/11/2020 | 21/11/2020 | £371.02 | |
| 28/11/2020 | 05/12/2020 | £372.88 | |
| 05/12/2020 | 12/12/2020 | £372.88 | |
| 09/01/2021 | 16/01/2021 | £386.88 | |
| 16/01/2021 | 23/01/2021 | £386.88 | |
| 23/01/2021 | 30/01/2021 | £386.88 | |
| 20/02/2021 | 27/02/2021 | £526.88 | |
| 06/03/2021 | 13/03/2021 | £372.88 | |
| 13/03/2021 | 20/03/2021 | £372.88 | |
| 20/03/2021 | 27/03/2021 | £372.88 | |
| 27/03/2021 | 03/04/2021 | £372.88 | |
| 03/04/2021 | 10/04/2021 | £372.88 | |
| 17/04/2021 | 24/04/2021 | £323.88 | |
| 06/11/2021 | 13/11/2021 | £323.88 | |
| 13/11/2021 | 20/11/2021 | £323.88 | |
| 07/11/2020 | 14/11/2020 | £7000 | |
| 14/11/2020 | 21/11/2020 | £7000 | |
| 21/11/2020 | 28/11/2020 | £7000 | |
| 05/12/2020 | 12/12/2020 | £849.32 | |
| 09/01/2021 | 16/01/2021 | £912.32 | |
| 16/01/2021 | 23/01/2021 | £912.32 | |
| 23/01/2021 | 30/01/2021 | £912.32 | |
| 06/02/2021 | 13/02/2021 | £1129.32 | |
| 13/02/2021 | 20/02/2021 | £1129.32 | |
| 20/02/2021 | 27/02/2021 | £1129.32 | |
| 06/03/2021 | 13/03/2021 | £912.32 | |
| 13/03/2021 | 20/03/2021 | £912.32 | |
| 03/04/2021 | 10/04/2021 | £912.32 | |
| 17/04/2021 | 24/04/2021 | £7630 | |
| 06/11/2021 | 13/11/2021 | £885.76 | |
| 13/11/2021 | 20/11/2021 | £885.76 | |
| 07/11/2020 | 14/11/2020 | £961.36 | |
| 14/11/2020 | 21/11/2020 | £961.36 | |
| 28/11/2020 | 05/12/2020 | £1276.32 | |
| 05/12/2020 | 12/12/2020 | £1276.32 | |
| 09/01/2021 | 16/01/2021 | £1577.32 | |
| 16/01/2021 | 23/01/2021 | £1577.32 | |
| 06/03/2021 | 13/03/2021 | £1696.32 | |
| 13/03/2021 | 20/03/2021 | £1696.32 | |
| 27/03/2021 | 03/04/2021 | £1689.32 | |
| 10/04/2021 | 17/04/2021 | £954.32 | |
| 17/04/2021 | 24/04/2021 | £954.32 | |
| 06/11/2021 | 13/11/2021 | £954.32 | |
| 13/11/2021 | 20/11/2021 | £954.32 | |
Property Location
Distance to: Ski is 50m

Map
Available Facilities
Bath
Hiking Plains
Mountain Biking
Biking Plains
Sailing
Cross Country Skiing

Ice Rink
Skiarea
Snowboard
Riding
Elevator
Balcony

Tv
Internet
WiFi
Microwave
Oven