Rond Point des Pistes
Tignes - France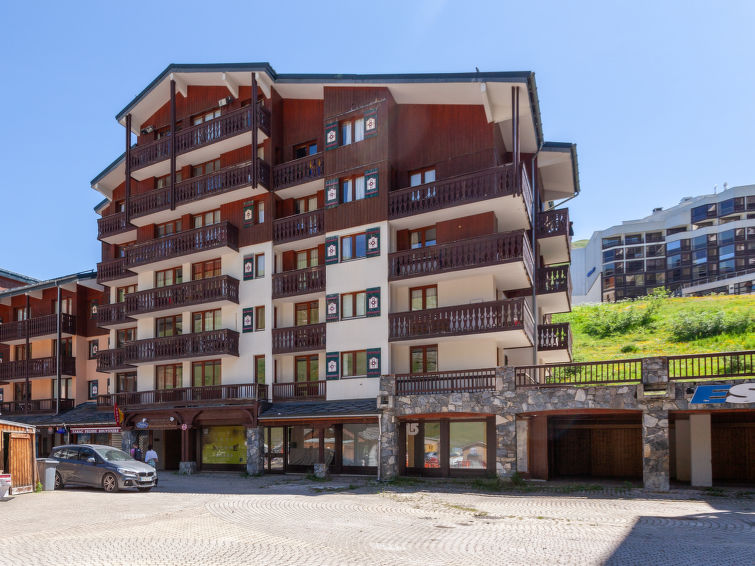 4 Guest(s)
1 Room(s)
1 Bedroom(s)
1 Bathroom(s)
Apartment
** Stars
Introduction to Rond Point des Pistes
To help you select the best ski holiday we have split up the details for this holiday into easy to navigate sections.
Tignes in France is very popular with British skiers and offers many activities additional to the fun you will have on the slopes.
This 2 star property Rond Point des Pistes-Tignes is well maintained and has everything you need for your stay.
If you are looking for accommodation which is close to the slopes then this could be the one for you, it is only 100m away from the pistes and can sleep up to 4 guests
Rond Point des Pistes-Tignes is closely located to a ski and snowboard rental shop, which is handy! You can also pre-order your equipment online in advance and receive up to 40% discount!
Ski Holiday Overview
Rond Point des Pistes - ski108
Resort: Tignes
Region: Savoie - Haute Savoie - Alps
Country: France
Stars: **
Number of guests: 4
Size: 25 m²
Rooms: 1
Bedrooms: 1
Toilets: 1
Bathrooms: 1
Customer rating: 3.8 out of 5 from 5 reviews
SkiGB Property Code:
ski108
*This property is provided by our partner Interhome, a new window to their website will open.
| Arrival Date | Departure Date | 7 Nights | Book |
| --- | --- | --- | --- |
| 07/03/2020 | 14/03/2020 | £4480 | |
| 14/03/2020 | 21/03/2020 | £4480 | |
| 21/03/2020 | 28/03/2020 | £4480 | |
| 28/03/2020 | 04/04/2020 | £4480 | |
| 04/04/2020 | 11/04/2020 | £4480 | |
| 11/04/2020 | 18/04/2020 | £4480 | |
| 07/03/2020 | 14/03/2020 | £4480 | |
| 14/03/2020 | 21/03/2020 | £4480 | |
| 21/03/2020 | 28/03/2020 | £4480 | |
| 28/03/2020 | 04/04/2020 | £4480 | |
| 04/04/2020 | 11/04/2020 | £4480 | |
| 11/04/2020 | 18/04/2020 | £4480 | |
| 07/11/2020 | 14/11/2020 | £105.76 | |
| 14/11/2020 | 21/11/2020 | £105.76 | |
| 28/11/2020 | 05/12/2020 | £129.76 | |
| 05/12/2020 | 12/12/2020 | £129.76 | |
| 09/01/2021 | 16/01/2021 | £143.76 | |
| 16/01/2021 | 23/01/2021 | £143.76 | |
| 23/01/2021 | 30/01/2021 | £143.76 | |
| 20/02/2021 | 27/02/2021 | £283.76 | |
| 06/03/2021 | 13/03/2021 | £129.76 | |
| 13/03/2021 | 20/03/2021 | £129.76 | |
| 20/03/2021 | 27/03/2021 | £129.76 | |
| 27/03/2021 | 03/04/2021 | £129.76 | |
| 03/04/2021 | 10/04/2021 | £129.76 | |
| 17/04/2021 | 24/04/2021 | £648.04 | |
| 06/11/2021 | 13/11/2021 | £648.04 | |
| 13/11/2021 | 20/11/2021 | £648.04 | |
| 07/11/2020 | 14/11/2020 | £779.08 | |
| 14/11/2020 | 21/11/2020 | £779.08 | |
| 28/11/2020 | 05/12/2020 | £794.90 | |
| 05/12/2020 | 12/12/2020 | £794.90 | |
| 12/12/2020 | 19/12/2020 | £794.90 | |
| 16/01/2021 | 23/01/2021 | £794.90 | |
| 23/01/2021 | 30/01/2021 | £794.90 | |
| 06/02/2021 | 13/02/2021 | £1165.90 | |
| 13/02/2021 | 20/02/2021 | £1165.90 | |
| 20/02/2021 | 27/02/2021 | £1165.90 | |
| 06/03/2021 | 13/03/2021 | £794.90 | |
| 27/03/2021 | 03/04/2021 | £794.90 | |
| 10/04/2021 | 17/04/2021 | £682.90 | |
| 17/04/2021 | 24/04/2021 | £682.90 | |
| 07/11/2020 | 14/11/2020 | £779.08 | |
| 14/11/2020 | 21/11/2020 | £779.08 | |
| 28/11/2020 | 05/12/2020 | £794.90 | |
| 05/12/2020 | 12/12/2020 | £794.90 | |
| 12/12/2020 | 19/12/2020 | £794.90 | |
| 16/01/2021 | 23/01/2021 | £794.90 | |
| 23/01/2021 | 30/01/2021 | £794.90 | |
| 06/02/2021 | 13/02/2021 | £1165.90 | |
| 13/02/2021 | 20/02/2021 | £1165.90 | |
| 20/02/2021 | 27/02/2021 | £1165.90 | |
| 06/03/2021 | 13/03/2021 | £794.90 | |
| 27/03/2021 | 03/04/2021 | £794.90 | |
| 10/04/2021 | 17/04/2021 | £682.90 | |
| 17/04/2021 | 24/04/2021 | £682.90 | |
| 07/11/2020 | 14/11/2020 | £779.08 | |
| 14/11/2020 | 21/11/2020 | £779.08 | |
| 28/11/2020 | 05/12/2020 | £794.90 | |
| 05/12/2020 | 12/12/2020 | £794.90 | |
| 12/12/2020 | 19/12/2020 | £794.90 | |
| 16/01/2021 | 23/01/2021 | £794.90 | |
| 23/01/2021 | 30/01/2021 | £794.90 | |
| 06/02/2021 | 13/02/2021 | £1165.90 | |
| 13/02/2021 | 20/02/2021 | £1165.90 | |
| 20/02/2021 | 27/02/2021 | £1165.90 | |
| 06/03/2021 | 13/03/2021 | £794.90 | |
| 27/03/2021 | 03/04/2021 | £794.90 | |
| 10/04/2021 | 17/04/2021 | £682.90 | |
| 17/04/2021 | 24/04/2021 | £682.90 | |
| 07/11/2020 | 14/11/2020 | £451.96 | |
| 14/11/2020 | 21/11/2020 | £451.96 | |
| 28/11/2020 | 05/12/2020 | £559.48 | |
| 05/12/2020 | 12/12/2020 | £559.48 | |
| 12/12/2020 | 19/12/2020 | £559.48 | |
| 02/01/2021 | 09/01/2021 | £454.48 | |
| 09/01/2021 | 16/01/2021 | £454.48 | |
| 16/01/2021 | 23/01/2021 | £454.48 | |
| 13/02/2021 | 20/02/2021 | £839.48 | |
| 06/03/2021 | 13/03/2021 | £496.48 | |
| 13/03/2021 | 20/03/2021 | £496.48 | |
| 20/03/2021 | 27/03/2021 | £496.48 | |
| 27/03/2021 | 03/04/2021 | £496.48 | |
| 03/04/2021 | 10/04/2021 | £496.48 | |
| 10/04/2021 | 17/04/2021 | £496.48 | |
| 17/04/2021 | 24/04/2021 | £496.48 | |
| 06/11/2021 | 13/11/2021 | £454.48 | |
| 13/11/2021 | 20/11/2021 | £454.48 | |
| 07/11/2020 | 14/11/2020 | £647.10 | |
| 14/11/2020 | 21/11/2020 | £647.10 | |
| 28/11/2020 | 05/12/2020 | £896.30 | |
| 05/12/2020 | 12/12/2020 | £896.30 | |
| 09/01/2021 | 16/01/2021 | £1162.30 | |
| 16/01/2021 | 23/01/2021 | £1162.30 | |
| 06/03/2021 | 13/03/2021 | £1162.30 | |
| 13/03/2021 | 20/03/2021 | £1162.30 | |
| 20/03/2021 | 27/03/2021 | £1162.30 | |
| 27/03/2021 | 03/04/2021 | £1162.30 | |
| 10/04/2021 | 17/04/2021 | £637.30 | |
| 17/04/2021 | 24/04/2021 | £637.30 | |
| 06/11/2021 | 13/11/2021 | £637.30 | |
| 13/11/2021 | 20/11/2021 | £637.30 | |
| 07/11/2020 | 14/11/2020 | £4480 | |
| 14/11/2020 | 21/11/2020 | £4480 | |
| 28/11/2020 | 05/12/2020 | £4690 | |
| 05/12/2020 | 12/12/2020 | £4690 | |
| 09/01/2021 | 16/01/2021 | £4690 | |
| 16/01/2021 | 23/01/2021 | £4690 | |
| 23/01/2021 | 30/01/2021 | £4690 | |
| 30/01/2021 | 06/02/2021 | £4690 | |
| 06/02/2021 | 13/02/2021 | £4690 | |
| 13/02/2021 | 20/02/2021 | £4690 | |
| 20/02/2021 | 27/02/2021 | £4690 | |
| 27/02/2021 | 06/03/2021 | £4690 | |
| 06/03/2021 | 13/03/2021 | £4690 | |
| 13/03/2021 | 20/03/2021 | £4690 | |
| 27/03/2021 | 03/04/2021 | £5250 | |
| 10/04/2021 | 17/04/2021 | £4690 | |
| 17/04/2021 | 24/04/2021 | £4690 | |
| 06/11/2021 | 13/11/2021 | £4480 | |
| 13/11/2021 | 20/11/2021 | £4480 | |
| 07/11/2020 | 14/11/2020 | £3640 | |
| 14/11/2020 | 21/11/2020 | £3640 | |
| 21/11/2020 | 28/11/2020 | £3640 | |
| 28/11/2020 | 05/12/2020 | £3640 | |
| 05/12/2020 | 12/12/2020 | £3640 | |
| 12/12/2020 | 19/12/2020 | £3640 | |
| 19/12/2020 | 26/12/2020 | £3640 | |
| 26/12/2020 | 02/01/2021 | £3640 | |
| 02/01/2021 | 09/01/2021 | £3640 | |
| 09/01/2021 | 16/01/2021 | £3640 | |
| 16/01/2021 | 23/01/2021 | £3640 | |
| 23/01/2021 | 30/01/2021 | £3640 | |
| 30/01/2021 | 06/02/2021 | £3640 | |
| 06/02/2021 | 13/02/2021 | £3640 | |
| 13/02/2021 | 20/02/2021 | £3640 | |
| 20/02/2021 | 27/02/2021 | £3640 | |
| 27/02/2021 | 06/03/2021 | £3640 | |
| 06/03/2021 | 13/03/2021 | £3640 | |
| 13/03/2021 | 20/03/2021 | £3640 | |
| 20/03/2021 | 27/03/2021 | £3640 | |
| 27/03/2021 | 03/04/2021 | £3640 | |
| 03/04/2021 | 10/04/2021 | £3640 | |
| 10/04/2021 | 17/04/2021 | £3640 | |
| 17/04/2021 | 24/04/2021 | £3640 | |
| 06/11/2021 | 13/11/2021 | £3640 | |
| 13/11/2021 | 20/11/2021 | £3640 | |
| 07/11/2020 | 14/11/2020 | £602.02 | |
| 14/11/2020 | 21/11/2020 | £602.02 | |
| 28/11/2020 | 05/12/2020 | £682.02 | |
| 05/12/2020 | 12/12/2020 | £682.02 | |
| 09/01/2021 | 16/01/2021 | £682.02 | |
| 16/01/2021 | 23/01/2021 | £682.02 | |
| 23/01/2021 | 30/01/2021 | £682.02 | |
| 20/02/2021 | 27/02/2021 | £850.02 | |
| 06/03/2021 | 13/03/2021 | £654.02 | |
| 13/03/2021 | 20/03/2021 | £654.02 | |
| 27/03/2021 | 03/04/2021 | £584.02 | |
| 03/04/2021 | 10/04/2021 | £584.02 | |
| 10/04/2021 | 17/04/2021 | £584.02 | |
| 17/04/2021 | 24/04/2021 | £584.02 | |
| 06/11/2021 | 13/11/2021 | £591.02 | |
| 13/11/2021 | 20/11/2021 | £591.02 | |
| 07/11/2020 | 14/11/2020 | £420.86 | |
| 14/11/2020 | 21/11/2020 | £420.86 | |
| 07/11/2020 | 14/11/2020 | £324.36 | |
| 14/11/2020 | 21/11/2020 | £324.36 | |
| 07/11/2020 | 14/11/2020 | £363.20 | |
| 14/11/2020 | 21/11/2020 | £363.20 | |
| 28/11/2020 | 05/12/2020 | £378.88 | |
| 05/12/2020 | 12/12/2020 | £378.88 | |
| 09/01/2021 | 16/01/2021 | £406.88 | |
| 16/01/2021 | 23/01/2021 | £406.88 | |
| 27/02/2021 | 06/03/2021 | £406.88 | |
| 06/03/2021 | 13/03/2021 | £406.88 | |
| 13/03/2021 | 20/03/2021 | £406.88 | |
| 20/03/2021 | 27/03/2021 | £406.88 | |
| 27/03/2021 | 03/04/2021 | £406.88 | |
| 10/04/2021 | 17/04/2021 | £357.88 | |
| 17/04/2021 | 24/04/2021 | £357.88 | |
| 06/11/2021 | 13/11/2021 | £364.88 | |
| 13/11/2021 | 20/11/2021 | £364.88 | |
| 28/11/2020 | 05/12/2020 | £6580 | |
| 05/12/2020 | 12/12/2020 | £6580 | |
| 12/12/2020 | 19/12/2020 | £6580 | |
| 09/01/2021 | 16/01/2021 | £6580 | |
| 16/01/2021 | 23/01/2021 | £6580 | |
| 23/01/2021 | 30/01/2021 | £6580 | |
| 06/02/2021 | 13/02/2021 | £8050 | |
| 13/02/2021 | 20/02/2021 | £8050 | |
| 20/02/2021 | 27/02/2021 | £8050 | |
| 06/03/2021 | 13/03/2021 | £6580 | |
| 13/03/2021 | 20/03/2021 | £6580 | |
| 03/04/2021 | 10/04/2021 | £6580 | |
| 10/04/2021 | 17/04/2021 | £6580 | |
| 17/04/2021 | 24/04/2021 | £6580 | |
| 06/11/2021 | 13/11/2021 | £6580 | |
| 13/11/2021 | 20/11/2021 | £6580 | |
| 07/11/2020 | 14/11/2020 | £9660 | |
| 14/11/2020 | 21/11/2020 | £9660 | |
| 28/11/2020 | 05/12/2020 | £964.64 | |
| 05/12/2020 | 12/12/2020 | £964.64 | |
| 09/01/2021 | 16/01/2021 | £1048.64 | |
| 16/01/2021 | 23/01/2021 | £1048.64 | |
| 20/02/2021 | 27/02/2021 | £1188.64 | |
| 06/03/2021 | 13/03/2021 | £1048.64 | |
| 20/03/2021 | 27/03/2021 | £1006.64 | |
| 27/03/2021 | 03/04/2021 | £1006.64 | |
| 03/04/2021 | 10/04/2021 | £1006.64 | |
| 10/04/2021 | 17/04/2021 | £1006.64 | |
| 17/04/2021 | 24/04/2021 | £1006.64 | |
| 06/11/2021 | 13/11/2021 | £733.64 | |
| 13/11/2021 | 20/11/2021 | £733.64 | |
| 07/11/2020 | 14/11/2020 | £362.42 | |
| 14/11/2020 | 21/11/2020 | £362.42 | |
| 28/11/2020 | 05/12/2020 | £371.28 | |
| 05/12/2020 | 12/12/2020 | £371.28 | |
| 09/01/2021 | 16/01/2021 | £483.28 | |
| 16/01/2021 | 23/01/2021 | £483.28 | |
| 06/03/2021 | 13/03/2021 | £504.28 | |
| 13/03/2021 | 20/03/2021 | £504.28 | |
| 27/03/2021 | 03/04/2021 | £483.28 | |
| 10/04/2021 | 17/04/2021 | £364.28 | |
| 17/04/2021 | 24/04/2021 | £364.28 | |
| 06/11/2021 | 13/11/2021 | £364.28 | |
| 13/11/2021 | 20/11/2021 | £364.28 | |
| 07/11/2020 | 14/11/2020 | £882.80 | |
| 14/11/2020 | 21/11/2020 | £882.80 | |
| 28/11/2020 | 05/12/2020 | £878.62 | |
| 05/12/2020 | 12/12/2020 | £878.62 | |
| 12/12/2020 | 19/12/2020 | £878.62 | |
| 19/12/2020 | 26/12/2020 | £878.62 | |
| 16/01/2021 | 23/01/2021 | £927.62 | |
| 23/01/2021 | 30/01/2021 | £927.62 | |
| 13/02/2021 | 20/02/2021 | £1123.62 | |
| 20/02/2021 | 27/02/2021 | £1123.62 | |
| 27/02/2021 | 06/03/2021 | £1123.62 | |
| 13/03/2021 | 20/03/2021 | £927.62 | |
| 20/03/2021 | 27/03/2021 | £927.62 | |
| 27/03/2021 | 03/04/2021 | £927.62 | |
| 03/04/2021 | 10/04/2021 | £927.62 | |
| 10/04/2021 | 17/04/2021 | £927.62 | |
| 17/04/2021 | 24/04/2021 | £927.62 | |
| 07/11/2020 | 14/11/2020 | £406.80 | |
| 14/11/2020 | 21/11/2020 | £406.80 | |
| 28/11/2020 | 05/12/2020 | £423.62 | |
| 05/12/2020 | 12/12/2020 | £423.62 | |
| 09/01/2021 | 16/01/2021 | £500.62 | |
| 16/01/2021 | 23/01/2021 | £500.62 | |
| 23/01/2021 | 30/01/2021 | £500.62 | |
| 06/03/2021 | 13/03/2021 | £556.62 | |
| 13/03/2021 | 20/03/2021 | £556.62 | |
| 20/03/2021 | 27/03/2021 | £556.62 | |
| 27/03/2021 | 03/04/2021 | £556.62 | |
| 10/04/2021 | 17/04/2021 | £402.62 | |
| 17/04/2021 | 24/04/2021 | £402.62 | |
| 06/11/2021 | 13/11/2021 | £402.62 | |
| 13/11/2021 | 20/11/2021 | £402.62 | |
| 07/11/2020 | 14/11/2020 | £277.60 | |
| 14/11/2020 | 21/11/2020 | £277.60 | |
| 21/11/2020 | 28/11/2020 | £277.60 | |
| 28/11/2020 | 05/12/2020 | £277.60 | |
| 05/12/2020 | 12/12/2020 | £277.60 | |
| 09/01/2021 | 16/01/2021 | £575.88 | |
| 16/01/2021 | 23/01/2021 | £575.88 | |
| 23/01/2021 | 30/01/2021 | £575.88 | |
| 20/02/2021 | 27/02/2021 | £855.88 | |
| 06/03/2021 | 13/03/2021 | £596.88 | |
| 13/03/2021 | 20/03/2021 | £596.88 | |
| 20/03/2021 | 27/03/2021 | £596.88 | |
| 27/03/2021 | 03/04/2021 | £596.88 | |
| 03/04/2021 | 10/04/2021 | £596.88 | |
| 10/04/2021 | 17/04/2021 | £596.88 | |
| 07/11/2020 | 14/11/2020 | £301.78 | |
| 14/11/2020 | 21/11/2020 | £301.78 | |
| 28/11/2020 | 05/12/2020 | £338.88 | |
| 05/12/2020 | 12/12/2020 | £338.88 | |
| 09/01/2021 | 16/01/2021 | £387.88 | |
| 16/01/2021 | 23/01/2021 | £387.88 | |
| 23/01/2021 | 30/01/2021 | £387.88 | |
| 13/02/2021 | 20/02/2021 | £499.88 | |
| 06/03/2021 | 13/03/2021 | £394.88 | |
| 13/03/2021 | 20/03/2021 | £394.88 | |
| 20/03/2021 | 27/03/2021 | £394.88 | |
| 27/03/2021 | 03/04/2021 | £394.88 | |
| 10/04/2021 | 17/04/2021 | £338.88 | |
| 17/04/2021 | 24/04/2021 | £338.88 | |
| 06/11/2021 | 13/11/2021 | £296.88 | |
| 13/11/2021 | 20/11/2021 | £296.88 | |
Property Location
Distance to: Ski is 50m
Distance to: Public Transport is 50m

Map
Available Facilities
Bath
Non Smoking
Hiking Plains
Mountain Biking
Biking Plains
Sailing
Cross Country Skiing

Ice Rink
Skiarea
Snowboard
Riding
Elevator
Balcony
Bbq

Dishwasher
Tv
Internet
WiFi
Microwave
Oven