Rond Point des Pistes
Tignes - France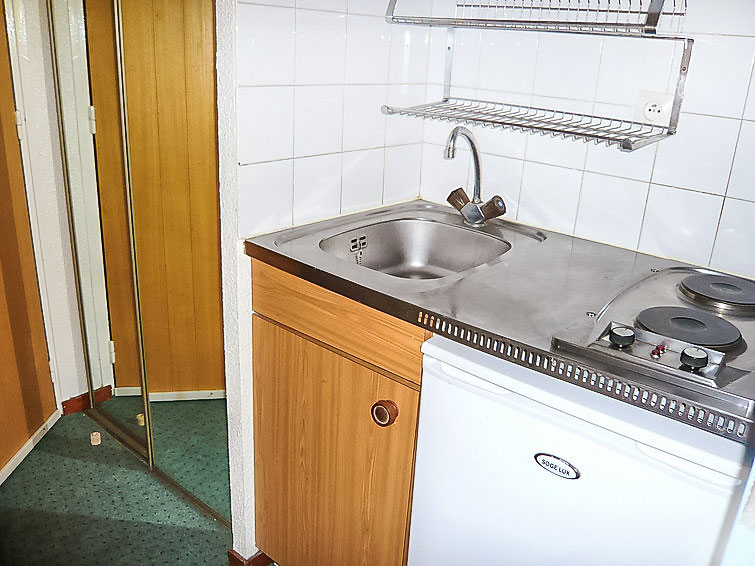 4 Guest(s)
1 Room(s)
1 Bedroom(s)
1 Bathroom(s)
Apartment
** Stars
Introduction to Rond Point des Pistes
To help you select the best ski holiday we have split up the details for this holiday into easy to navigate sections.
Tignes in France offers many activities additional to snow-sports that you should also try whilst in resort.
This 2 star property Rond Point des Pistes-Tignes has some stunning views, a nice bonus.
At only 100m from the pistes this ski apartment is nicely located and can sleep up to 4 guests
Rond Point des Pistes-Tignes is not far from a ski and snowboard rental shop where you can pickup up your snow equipment. Order online in advance and receive up to 40% discount and save time in resort!
Ski Holiday Overview
Rond Point des Pistes - ski109
Resort: Tignes
Region: Savoie - Haute Savoie - Alps
Country: France
Stars: **
Number of guests: 4
Size: 20 m²
Rooms: 1
Bedrooms: 1
Toilets: 1
Bathrooms: 1

SkiGB Property Code:
ski109
*This property is provided by our partner Interhome, a new window to their website will open.
| Arrival Date | Departure Date | 7 Nights | Book |
| --- | --- | --- | --- |
| 14/03/2020 | 21/03/2020 | £6510 | |
| 21/03/2020 | 28/03/2020 | £6510 | |
| 28/03/2020 | 04/04/2020 | £6510 | |
| 04/04/2020 | 11/04/2020 | £6510 | |
| 14/03/2020 | 21/03/2020 | £6510 | |
| 21/03/2020 | 28/03/2020 | £6510 | |
| 28/03/2020 | 04/04/2020 | £6510 | |
| 04/04/2020 | 11/04/2020 | £6510 | |
| 07/11/2020 | 14/11/2020 | £1681.64 | |
| 14/11/2020 | 21/11/2020 | £1681.64 | |
| 28/11/2020 | 05/12/2020 | £252.80 | |
| 05/12/2020 | 12/12/2020 | £252.80 | |
| 09/01/2021 | 16/01/2021 | £308.80 | |
| 16/01/2021 | 23/01/2021 | £308.80 | |
| 23/01/2021 | 30/01/2021 | £308.80 | |
| 20/02/2021 | 27/02/2021 | £651.80 | |
| 06/03/2021 | 13/03/2021 | £252.80 | |
| 13/03/2021 | 20/03/2021 | £252.80 | |
| 20/03/2021 | 27/03/2021 | £252.80 | |
| 27/03/2021 | 03/04/2021 | £252.80 | |
| 03/04/2021 | 10/04/2021 | £252.80 | |
| 17/04/2021 | 24/04/2021 | £1440.70 | |
| 06/11/2021 | 13/11/2021 | £1440.70 | |
| 13/11/2021 | 20/11/2021 | £1440.70 | |
| 07/11/2020 | 14/11/2020 | £1297.06 | |
| 14/11/2020 | 21/11/2020 | £1297.06 | |
| 28/11/2020 | 05/12/2020 | £1275.08 | |
| 05/12/2020 | 12/12/2020 | £1275.08 | |
| 12/12/2020 | 19/12/2020 | £1275.08 | |
| 09/01/2021 | 16/01/2021 | £1296.08 | |
| 16/01/2021 | 23/01/2021 | £1296.08 | |
| 20/02/2021 | 27/02/2021 | £462.52 | |
| 06/03/2021 | 13/03/2021 | £1268.08 | |
| 20/03/2021 | 27/03/2021 | £1226.08 | |
| 27/03/2021 | 03/04/2021 | £1226.08 | |
| 03/04/2021 | 10/04/2021 | £1226.08 | |
| 10/04/2021 | 17/04/2021 | £1226.08 | |
| 17/04/2021 | 24/04/2021 | £1226.08 | |
| 06/11/2021 | 13/11/2021 | £1121.08 | |
| 13/11/2021 | 20/11/2021 | £1121.08 | |
| 07/11/2020 | 14/11/2020 | £1297.06 | |
| 14/11/2020 | 21/11/2020 | £1297.06 | |
| 28/11/2020 | 05/12/2020 | £1275.08 | |
| 05/12/2020 | 12/12/2020 | £1275.08 | |
| 12/12/2020 | 19/12/2020 | £1275.08 | |
| 09/01/2021 | 16/01/2021 | £1296.08 | |
| 16/01/2021 | 23/01/2021 | £1296.08 | |
| 20/02/2021 | 27/02/2021 | £462.52 | |
| 06/03/2021 | 13/03/2021 | £1268.08 | |
| 20/03/2021 | 27/03/2021 | £1226.08 | |
| 27/03/2021 | 03/04/2021 | £1226.08 | |
| 03/04/2021 | 10/04/2021 | £1226.08 | |
| 10/04/2021 | 17/04/2021 | £1226.08 | |
| 17/04/2021 | 24/04/2021 | £1226.08 | |
| 06/11/2021 | 13/11/2021 | £1121.08 | |
| 13/11/2021 | 20/11/2021 | £1121.08 | |
| 07/11/2020 | 14/11/2020 | £1297.06 | |
| 14/11/2020 | 21/11/2020 | £1297.06 | |
| 28/11/2020 | 05/12/2020 | £1275.08 | |
| 05/12/2020 | 12/12/2020 | £1275.08 | |
| 12/12/2020 | 19/12/2020 | £1275.08 | |
| 09/01/2021 | 16/01/2021 | £1296.08 | |
| 16/01/2021 | 23/01/2021 | £1296.08 | |
| 20/02/2021 | 27/02/2021 | £462.52 | |
| 06/03/2021 | 13/03/2021 | £1268.08 | |
| 20/03/2021 | 27/03/2021 | £1226.08 | |
| 27/03/2021 | 03/04/2021 | £1226.08 | |
| 03/04/2021 | 10/04/2021 | £1226.08 | |
| 10/04/2021 | 17/04/2021 | £1226.08 | |
| 17/04/2021 | 24/04/2021 | £1226.08 | |
| 06/11/2021 | 13/11/2021 | £1121.08 | |
| 13/11/2021 | 20/11/2021 | £1121.08 | |
| 07/11/2020 | 14/11/2020 | £447.28 | |
| 14/11/2020 | 21/11/2020 | £447.28 | |
| 28/11/2020 | 05/12/2020 | £533.68 | |
| 05/12/2020 | 12/12/2020 | £533.68 | |
| 12/12/2020 | 19/12/2020 | £533.68 | |
| 02/01/2021 | 09/01/2021 | £442.68 | |
| 09/01/2021 | 16/01/2021 | £442.68 | |
| 16/01/2021 | 23/01/2021 | £442.68 | |
| 13/02/2021 | 20/02/2021 | £694.68 | |
| 06/03/2021 | 13/03/2021 | £463.68 | |
| 13/03/2021 | 20/03/2021 | £463.68 | |
| 20/03/2021 | 27/03/2021 | £463.68 | |
| 27/03/2021 | 03/04/2021 | £463.68 | |
| 03/04/2021 | 10/04/2021 | £463.68 | |
| 10/04/2021 | 17/04/2021 | £463.68 | |
| 17/04/2021 | 24/04/2021 | £463.68 | |
| 06/11/2021 | 13/11/2021 | £442.68 | |
| 13/11/2021 | 20/11/2021 | £442.68 | |
| 07/11/2020 | 14/11/2020 | £570.10 | |
| 14/11/2020 | 21/11/2020 | £570.10 | |
| 28/11/2020 | 05/12/2020 | £756.30 | |
| 05/12/2020 | 12/12/2020 | £756.30 | |
| 09/01/2021 | 16/01/2021 | £952.30 | |
| 16/01/2021 | 23/01/2021 | £952.30 | |
| 06/03/2021 | 13/03/2021 | £952.30 | |
| 13/03/2021 | 20/03/2021 | £952.30 | |
| 27/03/2021 | 03/04/2021 | £945.30 | |
| 10/04/2021 | 17/04/2021 | £560.30 | |
| 17/04/2021 | 24/04/2021 | £560.30 | |
| 06/11/2021 | 13/11/2021 | £560.30 | |
| 13/11/2021 | 20/11/2021 | £560.30 | |
| 07/11/2020 | 14/11/2020 | £961.36 | |
| 14/11/2020 | 21/11/2020 | £961.36 | |
| 28/11/2020 | 05/12/2020 | £1276.32 | |
| 05/12/2020 | 12/12/2020 | £1276.32 | |
| 09/01/2021 | 16/01/2021 | £1577.32 | |
| 16/01/2021 | 23/01/2021 | £1577.32 | |
| 06/03/2021 | 13/03/2021 | £1696.32 | |
| 13/03/2021 | 20/03/2021 | £1696.32 | |
| 27/03/2021 | 03/04/2021 | £1689.32 | |
| 10/04/2021 | 17/04/2021 | £954.32 | |
| 17/04/2021 | 24/04/2021 | £954.32 | |
| 06/11/2021 | 13/11/2021 | £954.32 | |
| 13/11/2021 | 20/11/2021 | £954.32 | |
| 07/11/2020 | 14/11/2020 | £3570 | |
| 14/11/2020 | 21/11/2020 | £3570 | |
| 28/11/2020 | 05/12/2020 | £3500 | |
| 05/12/2020 | 12/12/2020 | £3500 | |
| 09/01/2021 | 16/01/2021 | £3500 | |
| 16/01/2021 | 23/01/2021 | £3500 | |
| 23/01/2021 | 30/01/2021 | £3500 | |
| 20/02/2021 | 27/02/2021 | £5740 | |
| 06/03/2021 | 13/03/2021 | £4270 | |
| 13/03/2021 | 20/03/2021 | £4270 | |
| 20/03/2021 | 27/03/2021 | £4270 | |
| 27/03/2021 | 03/04/2021 | £4270 | |
| 03/04/2021 | 10/04/2021 | £4270 | |
| 10/04/2021 | 17/04/2021 | £4270 | |
| 17/04/2021 | 24/04/2021 | £4270 | |
| 07/11/2020 | 14/11/2020 | £363.20 | |
| 14/11/2020 | 21/11/2020 | £363.20 | |
| 28/11/2020 | 05/12/2020 | £378.88 | |
| 05/12/2020 | 12/12/2020 | £378.88 | |
| 09/01/2021 | 16/01/2021 | £406.88 | |
| 16/01/2021 | 23/01/2021 | £406.88 | |
| 27/02/2021 | 06/03/2021 | £406.88 | |
| 06/03/2021 | 13/03/2021 | £406.88 | |
| 13/03/2021 | 20/03/2021 | £406.88 | |
| 20/03/2021 | 27/03/2021 | £406.88 | |
| 27/03/2021 | 03/04/2021 | £406.88 | |
| 10/04/2021 | 17/04/2021 | £357.88 | |
| 17/04/2021 | 24/04/2021 | £357.88 | |
| 06/11/2021 | 13/11/2021 | £364.88 | |
| 13/11/2021 | 20/11/2021 | £364.88 | |
| 07/11/2020 | 14/11/2020 | £408.36 | |
| 14/11/2020 | 21/11/2020 | £408.36 | |
| 28/11/2020 | 05/12/2020 | £403.88 | |
| 05/12/2020 | 12/12/2020 | £403.88 | |
| 09/01/2021 | 16/01/2021 | £494.88 | |
| 23/01/2021 | 30/01/2021 | £585.88 | |
| 13/02/2021 | 20/02/2021 | £935.88 | |
| 06/03/2021 | 13/03/2021 | £669.88 | |
| 20/03/2021 | 27/03/2021 | £585.88 | |
| 10/04/2021 | 17/04/2021 | £494.88 | |
| 06/11/2021 | 13/11/2021 | £403.88 | |
| 13/11/2021 | 20/11/2021 | £403.88 | |
| 07/11/2020 | 14/11/2020 | £282.36 | |
| 14/11/2020 | 21/11/2020 | £282.36 | |
| 28/11/2020 | 05/12/2020 | £277.88 | |
| 05/12/2020 | 12/12/2020 | £277.88 | |
| 09/01/2021 | 16/01/2021 | £340.88 | |
| 23/01/2021 | 30/01/2021 | £396.88 | |
| 13/02/2021 | 20/02/2021 | £620.88 | |
| 06/03/2021 | 13/03/2021 | £452.88 | |
| 20/03/2021 | 27/03/2021 | £396.88 | |
| 27/03/2021 | 03/04/2021 | £396.88 | |
| 17/04/2021 | 24/04/2021 | £340.88 | |
| 06/11/2021 | 13/11/2021 | £277.88 | |
| 13/11/2021 | 20/11/2021 | £277.88 | |
| 07/11/2020 | 14/11/2020 | £363.20 | |
| 14/11/2020 | 21/11/2020 | £363.20 | |
| 28/11/2020 | 05/12/2020 | £378.88 | |
| 05/12/2020 | 12/12/2020 | £378.88 | |
| 09/01/2021 | 16/01/2021 | £406.88 | |
| 16/01/2021 | 23/01/2021 | £406.88 | |
| 27/02/2021 | 06/03/2021 | £406.88 | |
| 06/03/2021 | 13/03/2021 | £406.88 | |
| 13/03/2021 | 20/03/2021 | £406.88 | |
| 20/03/2021 | 27/03/2021 | £406.88 | |
| 27/03/2021 | 03/04/2021 | £406.88 | |
| 10/04/2021 | 17/04/2021 | £357.88 | |
| 17/04/2021 | 24/04/2021 | £357.88 | |
| 06/11/2021 | 13/11/2021 | £364.88 | |
| 13/11/2021 | 20/11/2021 | £364.88 | |
| 28/11/2020 | 05/12/2020 | £6300 | |
| 05/12/2020 | 12/12/2020 | £6300 | |
| 12/12/2020 | 19/12/2020 | £6300 | |
| 09/01/2021 | 16/01/2021 | £6300 | |
| 16/01/2021 | 23/01/2021 | £6300 | |
| 23/01/2021 | 30/01/2021 | £6300 | |
| 06/02/2021 | 13/02/2021 | £7700 | |
| 13/02/2021 | 20/02/2021 | £7700 | |
| 20/02/2021 | 27/02/2021 | £7700 | |
| 06/03/2021 | 13/03/2021 | £6300 | |
| 13/03/2021 | 20/03/2021 | £6300 | |
| 03/04/2021 | 10/04/2021 | £6300 | |
| 10/04/2021 | 17/04/2021 | £6300 | |
| 17/04/2021 | 24/04/2021 | £6300 | |
| 06/11/2021 | 13/11/2021 | £6300 | |
| 13/11/2021 | 20/11/2021 | £6300 | |
| 05/12/2020 | 12/12/2020 | £12180 | |
| 19/12/2020 | 26/12/2020 | £13720 | |
| 26/12/2020 | 02/01/2021 | £13720 | |
| 09/01/2021 | 16/01/2021 | £12670 | |
| 16/01/2021 | 23/01/2021 | £12670 | |
| 23/01/2021 | 30/01/2021 | £12670 | |
| 30/01/2021 | 06/02/2021 | £12670 | |
| 06/02/2021 | 13/02/2021 | £12670 | |
| 13/02/2021 | 20/02/2021 | £12670 | |
| 20/02/2021 | 27/02/2021 | £12670 | |
| 27/02/2021 | 06/03/2021 | £12670 | |
| 06/03/2021 | 13/03/2021 | £12670 | |
| 13/03/2021 | 20/03/2021 | £12670 | |
| 20/03/2021 | 27/03/2021 | £12670 | |
| 27/03/2021 | 03/04/2021 | £12670 | |
| 03/04/2021 | 10/04/2021 | £12670 | |
| 10/04/2021 | 17/04/2021 | £12670 | |
| 17/04/2021 | 24/04/2021 | £12670 | |
| 07/11/2020 | 14/11/2020 | £1059.36 | |
| 14/11/2020 | 21/11/2020 | £1059.36 | |
| 28/11/2020 | 05/12/2020 | £1052.32 | |
| 05/12/2020 | 12/12/2020 | £1052.32 | |
| 09/01/2021 | 16/01/2021 | £1598.32 | |
| 16/01/2021 | 23/01/2021 | £1598.32 | |
| 20/02/2021 | 27/02/2021 | £2186.32 | |
| 06/03/2021 | 13/03/2021 | £2018.32 | |
| 13/03/2021 | 20/03/2021 | £2018.32 | |
| 03/04/2021 | 10/04/2021 | £1479.32 | |
| 10/04/2021 | 17/04/2021 | £1479.32 | |
| 17/04/2021 | 24/04/2021 | £1479.32 | |
| 06/11/2021 | 13/11/2021 | £1059.32 | |
| 13/11/2021 | 20/11/2021 | £1059.32 | |
| 07/11/2020 | 14/11/2020 | £420.02 | |
| 14/11/2020 | 21/11/2020 | £420.02 | |
| 28/11/2020 | 05/12/2020 | £421.88 | |
| 05/12/2020 | 12/12/2020 | £421.88 | |
| 02/01/2021 | 09/01/2021 | £505.88 | |
| 09/01/2021 | 16/01/2021 | £505.88 | |
| 16/01/2021 | 23/01/2021 | £505.88 | |
| 30/01/2021 | 06/02/2021 | £547.88 | |
| 06/03/2021 | 13/03/2021 | £463.88 | |
| 13/03/2021 | 20/03/2021 | £463.88 | |
| 20/03/2021 | 27/03/2021 | £463.88 | |
| 27/03/2021 | 03/04/2021 | £463.88 | |
| 03/04/2021 | 10/04/2021 | £463.88 | |
| 10/04/2021 | 17/04/2021 | £463.88 | |
| 17/04/2021 | 24/04/2021 | £463.88 | |
| 06/11/2021 | 13/11/2021 | £463.88 | |
| 13/11/2021 | 20/11/2021 | £463.88 | |
| 20/11/2021 | 27/11/2021 | £463.88 | |
| 27/11/2021 | 04/12/2021 | £463.88 | |
| 04/12/2021 | 11/12/2021 | £463.88 | |
| 01/01/2022 | 08/01/2022 | £505.88 | |
| 08/01/2022 | 15/01/2022 | £505.88 | |
| 15/01/2022 | 22/01/2022 | £505.88 | |
| 22/01/2022 | 29/01/2022 | £505.88 | |
| 05/02/2022 | 12/02/2022 | £547.88 | |
| 12/02/2022 | 19/02/2022 | £547.88 | |
| 05/03/2022 | 12/03/2022 | £463.88 | |
| 12/03/2022 | 19/03/2022 | £463.88 | |
| 19/03/2022 | 26/03/2022 | £463.88 | |
| 26/03/2022 | 02/04/2022 | £463.88 | |
| 02/04/2022 | 09/04/2022 | £463.88 | |
| 09/04/2022 | 16/04/2022 | £463.88 | |
| 16/04/2022 | 23/04/2022 | £463.88 | |
| 05/11/2022 | 12/11/2022 | £463.88 | |
| 12/11/2022 | 19/11/2022 | £463.88 | |
| 07/11/2020 | 14/11/2020 | £491.56 | |
| 14/11/2020 | 21/11/2020 | £491.56 | |
| 28/11/2020 | 05/12/2020 | £655.62 | |
| 05/12/2020 | 12/12/2020 | £655.62 | |
| 09/01/2021 | 16/01/2021 | £697.62 | |
| 30/01/2021 | 06/02/2021 | £1173.62 | |
| 06/03/2021 | 13/03/2021 | £949.62 | |
| 13/03/2021 | 20/03/2021 | £949.62 | |
| 27/03/2021 | 03/04/2021 | £865.62 | |
| 10/04/2021 | 17/04/2021 | £508.62 | |
| 17/04/2021 | 24/04/2021 | £508.62 | |
| 06/11/2021 | 13/11/2021 | £508.62 | |
| 13/11/2021 | 20/11/2021 | £508.62 | |
| 27/11/2021 | 04/12/2021 | £655.62 | |
| 04/12/2021 | 11/12/2021 | £655.62 | |
| 08/01/2022 | 15/01/2022 | £697.62 | |
| 05/02/2022 | 12/02/2022 | £1173.62 | |
| 05/03/2022 | 12/03/2022 | £949.62 | |
| 19/03/2022 | 26/03/2022 | £711.62 | |
| 26/03/2022 | 02/04/2022 | £711.62 | |
| 02/04/2022 | 09/04/2022 | £711.62 | |
| 09/04/2022 | 16/04/2022 | £711.62 | |
| 05/11/2022 | 12/11/2022 | £508.62 | |
| 12/11/2022 | 19/11/2022 | £508.62 | |
| 07/11/2020 | 14/11/2020 | £251.20 | |
| 14/11/2020 | 21/11/2020 | £251.20 | |
| 28/11/2020 | 05/12/2020 | £301.88 | |
| 05/12/2020 | 12/12/2020 | £301.88 | |
| 09/01/2021 | 16/01/2021 | £301.88 | |
| 16/01/2021 | 23/01/2021 | £301.88 | |
| 23/01/2021 | 30/01/2021 | £301.88 | |
| 06/03/2021 | 13/03/2021 | £350.88 | |
| 13/03/2021 | 20/03/2021 | £350.88 | |
| 20/03/2021 | 27/03/2021 | £350.88 | |
| 27/03/2021 | 03/04/2021 | £350.88 | |
| 10/04/2021 | 17/04/2021 | £252.88 | |
| 17/04/2021 | 24/04/2021 | £252.88 | |
| 06/11/2021 | 13/11/2021 | £252.88 | |
| 13/11/2021 | 20/11/2021 | £252.88 | |
| 07/11/2020 | 14/11/2020 | £763.02 | |
| 14/11/2020 | 21/11/2020 | £763.02 | |
| 28/11/2020 | 05/12/2020 | £1295.52 | |
| 05/12/2020 | 12/12/2020 | £1295.52 | |
| 09/01/2021 | 16/01/2021 | £1547.52 | |
| 06/03/2021 | 13/03/2021 | £1764.52 | |
| 13/03/2021 | 20/03/2021 | £1764.52 | |
| 20/03/2021 | 27/03/2021 | £1764.52 | |
| 27/03/2021 | 03/04/2021 | £1764.52 | |
| 10/04/2021 | 17/04/2021 | £756.52 | |
| 17/04/2021 | 24/04/2021 | £756.52 | |
| 06/11/2021 | 13/11/2021 | £756.52 | |
| 13/11/2021 | 20/11/2021 | £756.52 | |
| 27/11/2021 | 04/12/2021 | £1295.52 | |
| 04/12/2021 | 11/12/2021 | £1295.52 | |
| 08/01/2022 | 15/01/2022 | £1547.52 | |
| 05/02/2022 | 12/02/2022 | £2268.52 | |
| 05/03/2022 | 12/03/2022 | £1764.52 | |
| 19/03/2022 | 26/03/2022 | £1589.52 | |
| 26/03/2022 | 02/04/2022 | £1589.52 | |
| 02/04/2022 | 09/04/2022 | £1589.52 | |
| 09/04/2022 | 16/04/2022 | £1589.52 | |
| 05/11/2022 | 12/11/2022 | £756.52 | |
| 12/11/2022 | 19/11/2022 | £756.52 | |
| 07/11/2020 | 14/11/2020 | £329.80 | |
| 14/11/2020 | 21/11/2020 | £329.80 | |
| 28/11/2020 | 05/12/2020 | £325.62 | |
| 05/12/2020 | 12/12/2020 | £325.62 | |
| 09/01/2021 | 16/01/2021 | £479.62 | |
| 16/01/2021 | 23/01/2021 | £479.62 | |
| 23/01/2021 | 30/01/2021 | £479.62 | |
| 20/02/2021 | 27/02/2021 | £521.62 | |
| 06/03/2021 | 13/03/2021 | £339.62 | |
| 13/03/2021 | 20/03/2021 | £339.62 | |
| 10/04/2021 | 17/04/2021 | £339.62 | |
| 17/04/2021 | 24/04/2021 | £339.62 | |
| 06/11/2021 | 13/11/2021 | £339.62 | |
| 13/11/2021 | 20/11/2021 | £339.62 | |
| 07/11/2020 | 14/11/2020 | £305.66 | |
| 14/11/2020 | 21/11/2020 | £305.66 | |
| 28/11/2020 | 05/12/2020 | £300.28 | |
| 05/12/2020 | 12/12/2020 | £300.28 | |
| 09/01/2021 | 16/01/2021 | £391.28 | |
| 16/01/2021 | 23/01/2021 | £391.28 | |
| 06/03/2021 | 13/03/2021 | £398.28 | |
| 13/03/2021 | 20/03/2021 | £398.28 | |
| 27/03/2021 | 03/04/2021 | £391.28 | |
| 10/04/2021 | 17/04/2021 | £300.28 | |
| 17/04/2021 | 24/04/2021 | £300.28 | |
| 06/11/2021 | 13/11/2021 | £300.28 | |
| 13/11/2021 | 20/11/2021 | £300.28 | |
Property Location
Distance to: Ski is 50m
Distance to: Public Transport is 50m

Map
Available Facilities
Shower
Hiking Plains
Mountain Biking
Biking Plains
Sailing

Cross Country Skiing
Ice Rink
Skiarea
Snowboard
Riding

Elevator
Balcony
Tv
Internet
WiFi